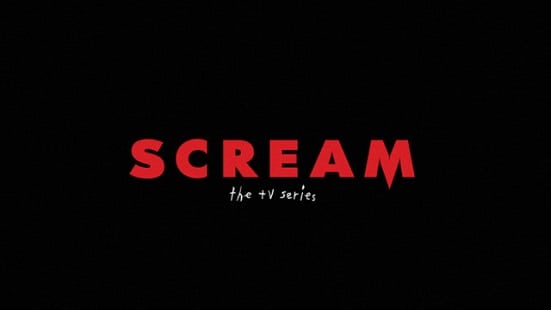 MTV have revealed the title treatment for their upcoming Scream TV series, and you will find the logo above.
In addition to this, they have also confirmed that the trailer will premiere at this Sunday's MTV Movie Awards, so expect it on-line soon after.
The series is said to center on a YouTube viral video gone wrong, which leads to adverse repercussions for teenager Audrey Jesen and will also serve as the "catalyst for a murder and opens up a window to the town's troubled past."
Thesps cast in key roles for the reboot of the Wes Craven film franchise about a murder spree among teenagers are Willa Fitzgerald ("Alpha House," "Royal Pains"), Amy Forsyth ("Torment," "Reign"), John Karna ("Premature," "The Neighbors"), Carlson Young ("Key and Peele," "The Kroll Show") and Amadeus Serafini.
Willa Fitzgerald as EMMA DUVAL – a classic beauty whose looks and popularity hide a natural shyness and intellectual nature. Her new life with the "in crowd" leaves her estranged her from childhood best friend Audrey.
Bex Taylor-Klaus replaces Amy Forsyth as AUDREY JENSEN – the daughter of a Lutheran pastor, Audrey is an artsy loner who aspires to be a filmmaker.
John Karna as NOAH FOSTER – creative computer genius with a vast knowledge of pop culture and the tech world. Best friends with Audrey.
Carlson Young as BROOKE MADDOX – charismatic leader of the popular crew whose personality vacillates between bubbly sweetness and ferocious sex appeal.
Amadeus Serafini as KIERAN WILCOX – the mysterious new kid in town, Kieran's got a dark side and a tough exterior that hints at experience beyond his years.