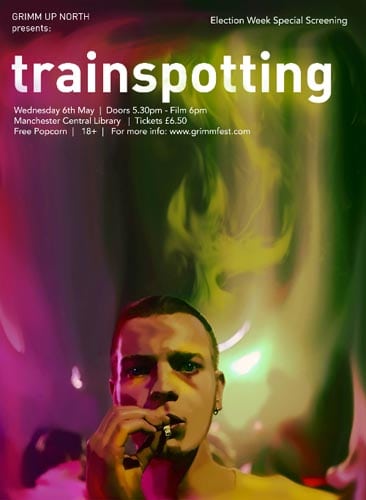 Don't miss Grimm Up North's TRAINSPOTTING screening tonight at the Manchester Central Library in… er… Manchester. 😉
Trainspotting is the the film that effectively launched the star careers of Danny Boyle, Robert Carlyle, Ewan McGregor and Jonny Lee Miller, it is a hard, barbed picaresque, culled from the best seller by Irvine Welsh and thrown down against the heroin hinterlands of Edinburgh. Directed with abandon by Danny Boyle, Trainspotting conspires to be at once a hip youth flick and a very grim cautionary fable. Released on an unsuspecting public in 1996, the picture struck a chord with audiences worldwide and became adopted as an instant symbol of a booming British rave culture.
Focusing on themes of Drug Addiction, Urban Poverty and Consumerism, this film instantly became a huge resonant hit in the UK, Grimm Up North present this as a special screening at MCR Central Library. As The Telegraph's Rupert Hawksley described the film as one "that made a whole generation think about their choices in life", seeing this film on the big screen again is not an opportunity to be missed!
Doors open at 5.30pm, with the film starting at 6pm. Tickets cost £6.50 and can be bought online. Ages 18+ only.