La Sorella di Ursula, The Sister of Ursula (1978)
Directed by: Enzo Milioni
Written by: Enzo Milioni
Starring: Anna Zinnemann, Barbara Magnolfi, Stefania D'Amario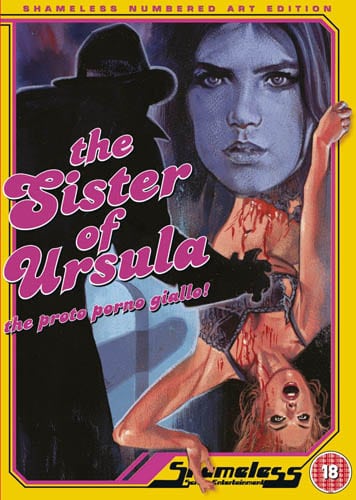 THE SISTER OF URSULA (1978)
Written and directed by Enzo Milioni
Italian language with English subtitles

Ursula and her older sister Dagmar book into an Italian hotel on the coast whilst on a trip to search for their estranged mother. Ursula, a psychic type, is not keen on staying at the hotel, convinced there's an evil about it and that their stay will culminate with her own demise. Ursula's predictions of the hotel's sinister edge prove true when a spate of murders occur in and around the luxury hotel. With staff and guests with secret agendas of their own, anybody could be the culprit but whoever it is has a taste for blood and voyeurism, choosing to kill after watching couples copulate.
Sleazy self-proclaimed porno-giallo THE SISTER OF URSULA puts its own spin on the genre by taking the mysterious killer shrouded in shadow and putting him to work on the naked female beauties throughout the film with a curious murder weapon of his own!
Set in the stunning location of Amalfi, Italy, the hotel looks the ideal place to spend a holiday, particularly to Austrian Dagmar, even if her sister is reluctant and pessimistic about the whole thing. Run by the charming and attentive host Roberto Delliri and featuring entertainment in the hotel's nightclub from singer Stella Shining, the hotel certainly lives up to its high reputation. Dagmar is also pleased there's some eye candy staying there in the shape of Filippo Andrei, even if he has the hots for Stella and a secret heroin addiction. Even when the murders begin to occur, Dagmar isn't too worried but her sister's reaction and unwillingness to partake in any activity means Dagmar is forced to choose between staying and enjoying Filippo's company or leaving with her sister.
For a giallo film, there's not much blood or gore on show with most of the murders occuring off camera and the results shown in the aftermath. There is, however, a plentiful supply of nude shots with the lead female characters often getting their kit off. The film isn't shy about displaying intimacy, showing off lesbian scenes, straight scenes, oral, masturbation, full frontal and genital. Though it's classed as a porno giallo, the nude scenes are rather tame compared to the output from Italian erotica director Tinto Brass.
THE SISTER OF URSULA isn't a strong film, especially considering its genre, and struggles to create a threat with its mysterious killer, their eyes shown glaring through the shadow. Maybe its due to the fact that most of the victims willingly invite the killer into their space to secretly watch their sexual acts or the lack of violence displayed on film, but nothing seems to create the tension or fear as seen in other giallo movies such as Tenebrae. Even the main characters and their complicated lives aren't enough to keep the viewer entertained nor gripped throughout the running time, with the viewer left expecting and wanting that bit more than what is delivered.
Giallo completists and fans will probably want to add this to their collection, but unfortunately it's a weak example for film fans as a whole.
Rating:
Shameless Screen Entertainment, known for their dedication to giallo, Italian, horror and sleaze cinema, present THE SISTER OF URSULA on region 2 DVD complete with a 30 minute interview with writer and director Enzo Milioni which is subtitled in English.