Can't Come Out To Play, The Harvest (2013)
Directed by: John McNaughton
Written by: Stephen Lancellotti
Starring: Charlie Tahan, Michael Shannon, Natasha Calis, Peter Fonda, Samantha Morton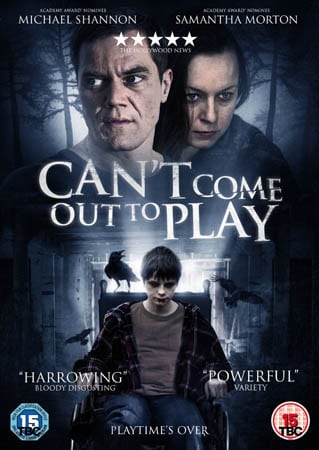 CAN'T COME OUT TO PLAY (2013)
aka The Harvest
Directed by John McNaughton
Disabled teenager Andy is unable to leave the house due to his debilitating condition. Home-schooled by his mother Katherine, who's a doctor at the local hospital, he lacks a social life with kids his age and even though his nurse father is eager to give him some independence and teach him how to play baseball, his mother strictly forbids it in case he comes to harm. When a teenage girl called Maryann moves into the neighbourhood after the death of her parents, she stumbles across Andy's house in the woods and befriends him, keen to find a friend of her own too. However, Andy's mother is furious to see the young girl in her home and attempts to put a stop to their friendship for good.
Dramatic thriller Can't Come Out To Play focuses on the socially stunted childhood of a house-bound young boy as he yearns to have a normal life like other kids his age. However, with the inability to walk leaving him restricted to his wheelchair, he has little opportunity to venture outside the home, something his mother relishes as she wraps him up in cotton wool to protect him from harm's way. But what kind of life is that and what happens when Andy tries to break free of his shackles and gain some independence in a life that has shielded him from a normal childhood?
Whilst I don't dislike Samantha Morton as an actress, I do find that her performances often lack excitement or a spark. Most of her roles that I've seen her in have her playing "nice" characters, such as the widowed housewife in The Messenger, the aspiring actress in The Libertine and the pre-cog in Minority Report. Whilst she puts in a good performance in these films, I've always felt like there could be more and thankfully Can't Come Out To Play has highlighted her acting chops. Samantha Morton comes alive in this film as super-bitch of a mother, Katherine. Katherine's clearly good at her day job as a doctor, but her vindictive and controlling personality sends her marriage on the rocks and alienates her poor son Andy. Unhinged is not even close to describing the character of Katherine and Samantha Morton absolutely excels and terrifies in the role. Now this is a performance worth mentioning! Michael Shannon's role as Katherine's husband Richard is much more low key as the down-trodden husband who's always belittled by his wife for being a nurse rather than a doctor, something which Katherine atempts to instil into Andy.
Whilst Samantha Morton does steal the show in many respects, props has to go to the two young leads in the form of Natasha Calis and Charlie Tahan as Maryann and Andy respectively.  Maryann is a rebellious kid with good intentions and refuses to take "no" for an answer, especially when, in her heart, she knows otherwise. Her longing to have a friend, especially one who reciprocates the friendship and needs her as much as she needs him, means she will stop at nothing to hold onto that necessary bond between them. Andy, on the other hand, is a shell of boy with a heart of gold. He's got the yearning and passion that all kids his age have but being cooped up with his mother for all his life has caused the joy to be knocked out of him with only a patch of corn outside his bedroom window something for him to nurture and take care of. When Maryann appears on the scene, she reignites that passion to have fun and to enjoy life but with his mother standing between them, Andy must do his best to obey his mother or feel her wrath.
Can't Come Out To Play is a very enjoyable movie with an emotional storyline that doesn't mind tugging at your heartstrings. A few twists are chucked in for good measure, some you can see coming and others not, but the film manages to keep up a decent pace regardless with solid performances from everyone involved. This really is a small, tight-knit film using a small cast, with Peter Fonda and Leslie Lyles making a few appearances as Maryann's grandparents, and it works all the better for it.
If you're looking for a quality, emotional dramatic thriller, then do check out Can't Come Out To Play.
Rating: