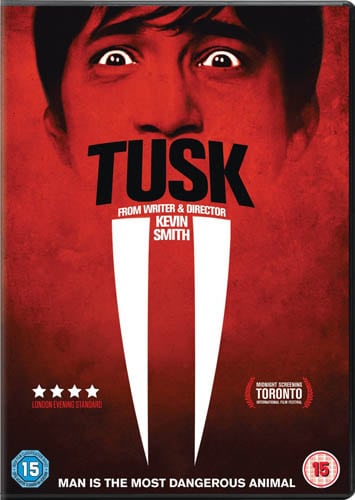 TUSK (2014)
Written and directed by Kevin Smith
On DVD from Amazon
Podcaster Wallace Bryton travels from Los Angeles to Canada to interview a viral video star. When his plans go up the wall, Wallace finds himself stuck in Canada with no interview to use for his No-See Party podcast, which he co-hosts with his best friend Teddy. Whilst travelling through Winnipeg, Wallace discovers a recluse living in Manitoba who has many tales of his seafaring history to share with eager Wallace but unbeknownst to him, the seafarer has sinister intentions of his own.
Written and directed by Kevin Smith, TUSK is a warped horror thriller that was inspired by a faux ad put on Gumtree by prankster Chris Parkinson. After discussing the ad on his and Scott Mosier's podcast, SModcast, Kevin Smith decided it would make the basis of a good horror film by adding a splash of The Human Centipede cum Frankenstein's monster style body modification… as you do. What results is a truly disturbing and emotional story of an ignorant young man's downfall at the hands of a lunatic recluse who's obsession with a walrus he met many years before results in him wanting to rekindle that friendship in his own home.
Jeepers Creepers star Justin Long stars as moustached Wallace Bryton, the cocky podcaster who believes his own hype to the point that he's changed so much as a person that his own girlfriend Ally no longer recognises the man she fell in love with. Bryton's travels to take the piss out of a hapless viral video star backfires when he ends up in the clutches of cunning seafarer Howard Howe, albeit initially willingly. Ally and Bryton's best friend and fellow podcaster Teddy (Haley Joel Osment) try their best to find Bryton when he goes missing and team up with quirky French-Canadian former cop Guy LaPointe (Johnny Depp).
The most horrifying aspect of TUSK is no doubt the costume to mimic Howe's beloved walrus friend, Mr Tusk. Well, I say costume, but it is actually the body modification of cutting limbs, stitching limbs and adding tusks which transforms the human into a walrus and the result is both horrifying and upsetting to view.  The modification in the movie starts off slow before Howe takes the giant step of transforming the man into the walrus in what appears to be one sitting. I won't forget the pure shock of seeing the man-walrus for the first time and it's incredibly sad to see a human like that, even if it is a fictitious movie. Well done to the prostethic and costume team for creating a striking, disturbing image that I've been unable to shake from my mind for days now.
The performances in the movie are all pretty strong. Justin Long is excellent, playing Wallace as a jerk-off who learns some humility when he's pretty much stripped of it. Michael Parks is intriguing as Howard Howe, the lonely old recluse, though his sinister edge isn't too far from the surface. Haley Joel Osment and Genesis Rodriguez provide good back up as the best friend and girlfriend even though they're not really given much to do. The appearance of Johnny Depp was a surprising one and I must admit it took me a few moments to realise it was him. Like most of his cameo roles, although this is much more a supporting role than cameo, Depp comes across as a quirky character but Guy LaPointe is the oddest yet! He pretty much brings the comedy to a film already littered with humorous notes despite the scary, if surreal, plot.
Disturbing, chilling and absurd, TUSK is like a twisted version of one of Aesop's fables.
Rating: