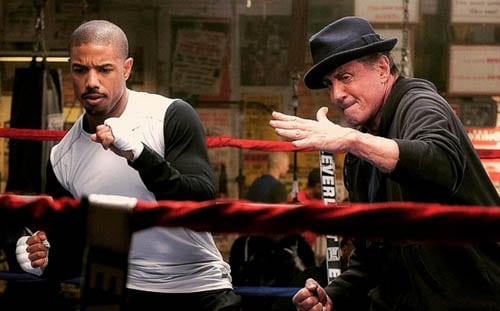 Rocky is back!
OK, the plot may seem similar to that or ROCKY V at first, but this time we have more serious tone and no silly trainer VS prodigy vibe in any way.
The franchise spin off which sees Apollo Creed's son Adonis  (Michael B Jordan) travel to Philadelphia in search of Rocky's help and manages to persuade him to return to the sport has aired its first trailer and to be fair it looks promising.  Its always great to see Sly back in his signature role and the film acknowledges events from Rocky Balboa, hey, we even get a training montage by the looks of things, the only thing that is missing is the theme music we all know so well, but lets hope we get that when the film is eventually released.
Creed is directed and written by Ryan Coogler and stars Graham McTavish, Tessa Thompson and Phylicia Rashad and is due to hit cinemas in the US on November 25.