As zombie drama MAGGIE releases in UK cinemas on 24th July 2015, take a deeper look at how the effects came together in the film.
Director Henry Hobson knew that the visual effects would be an important part of the final look of the film, Maggie. For a film with a modest budget, the success of the 250 visual effects shots would be essential for creating the realism he was determined to achieve.
The visual effects in Maggie were largely created by British visual effects veterans Cinesite, the experts behind films including San Andreas, Iron Man 3, Edge of Tomorrow, Skyfall, World War Z and the highly successful Harry Potter series. Their team of 60 created many of the shots in just over two months.
The Dead World
Several of Cinesite's shots establish the eerie and abandoned "dead world", which has survived the zombie virus apocalypse. The team destroyed houses, burned cars, tagged walls, killed every hint of life and reinvented locations by adding abandoned football fields, rusty water towers, empty flyovers, dust and debris. Many of these locations were created as a series of 2D cards placed in 3D space. Layers were projected onto these cards to create realistic new locations and sky, with authentic parallax as the camera moves.
One shot, of an abandoned freeway interchange, is entirely computer generated. Again, layers were projected onto geometry in a software called Nuke, to create the various levels of road. Atmospheric elements including flying newspapers and the addition of a truck gave life and realism to the finished shot.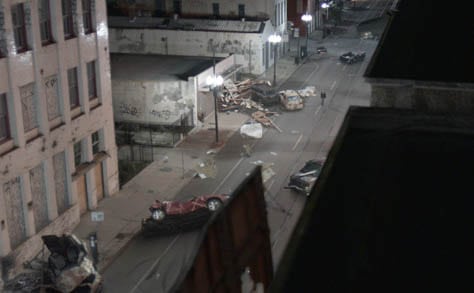 Henry Hobson, Director
"Coming from a visual effects world, I was very conscious of its potential benefits. With nearly 250 shots in the film, I was very keen to find a partner which understood the nuances of filmmaking and how we could create Maggie's world. Cinesite's rich history of high end effects in films is amazing and I felt privileged that the team had so much passion and love for such a small project. We had limitations in time and budget and we didn't have a VFX supervisor on the shoot, so Cinesite solved many problems.
The landscapes were a delicate balance of creating a dead world, whilst maintaining a natural look. VFX Supervisor Aymeric Perceval and the VFX team worked miracles and blew my expectations away, understanding the needs of the film and the powerful role that VFX played in the drama."

The Zombie Look
A sensitive drama about the relationship between father and daughter, Maggie is not what the audience might immediately expect from a film in the zombie genre. In keeping with this, the effects needed to be very subtle. Much of the zombie look would be achieved using make up effects but ultimately, this had its limitations.
Weeks pass between the moment Maggie is infected to when she finally loses control; the "zombification" is a very slow process. The disease spreads slowly from the wound via a network of dark veins, progressively covering her arm, shoulder, neck and finally, face. Her eyes gradually cloud and her skin begins to rot.
Abigail Breslin's head was rebuilt digitally, using photographic reference taken on set. Cinesite's team tracked the movement of Breslin's face using the painted veins as markers.
The budget did not allow for the creation of fully CG skin, so Layers of displacement were sculpted and various textures of veins, bruises and scabs were created to apply areas of disease progression over the original make up base.
Aymeric Perceval, Cinesite Visual Effects Supervisor
"It was pure pleasure to work on this short but sweet project. The story was an original poetic twist on the genre and the photography was simply beautiful. We only had two months to deliver, but Henry's intention boards of the world he wanted for his movie were very clear. This allowed us to get rapidly in sync with what story each shot should be telling, and come up with ways to push the effects even further. Our creative contribution
motivated the team, who loved every single pixel of it."
Cinesite creates visual effects and animation from its studios in London and Montréal. It is currently working on The Last Witch Hunter, Ant-Man, The Man From U.N.C.L.E., Spectre, Pride and Prejudice & Zombies, Gods of Egypt and Now You See Me: The Second Act. In addition to visual effects, they provide animation for animated feature films and are currently in production on Charming, the first in a slate of animated films with 3QU Media.