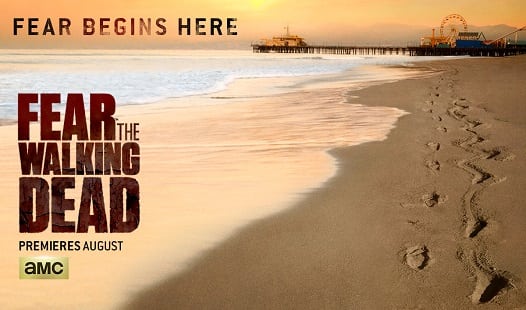 Can't get enough of zombie survival series The Walking Dead? Discover the origin that led to the events of the hit programme with AMC's spinoff prequel series FEAR THE WALKING DEAD which is set to premiere on BT TV on Monday 31st August 2015 to coincide with the launch of the AMC channel in the UK.
Whether you're already familiar with The Walking Dead series or not, FEAR THE WALKING DEAD tells its own story with all new characters. Set in Los Angeles, society begins to unravel as the worldwide infection takes hold and the undead apocalypse begins.
Penned by The Walking Dead creator Robert Kirkman with Sons of Anarchy writer Dave Erickson, FEAR THE WALKING DEAD series stars Rubén Blades (Once Upon a Time in Mexico), Kim Dickens (Gone Girl, Sons of Anarchy), Cliff Curtis (Missing, Gang Related), Frank Dillane (Harry Potter and the Half-Blood Prince), Alycia Debnam-Carey (Into the Storm), Elizabeth Rodriguez (Orange is the New Black) and Mercedes Mason (Quarantine 2: Terminal).
Judging from these creepy teaser clips below, expect to witness chilling survival horror at its finest as the world as we knew it comes crashing down as human life is hunted and threatened by the hunger of the undead.
AMC will launch in the UK exclusively on BT TV on 28th August 2015 and is free for BT TV customers. Fear The Walking Dead will air on AMC on BT TV at 9pm on Monday 31st August 2015.
Find out more about Fear The Walking Dead series at BT TV.