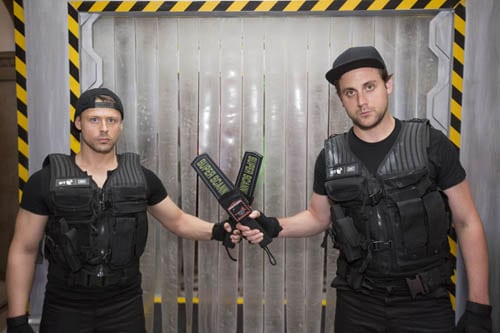 "Halt!"
I stop in my tracks.
"Where have you been the last few days!?"
"Uh…"
"Answer him!"
There's 2 guns pointed at my face.
They're held by a pair of big looking men.
I respond. "Ireland."
"Why?"
A bit personal, no?
"A guys' holiday" I say anyway.
They don't seem impressed by this.
"And what did you do there?"
"Dunno – drinking and castles"
A very long pause follows.
"Ok – you can go in. But hands by your sides and proceed through screening"
Their eyes stay fixed to me as I move though.
Finally! After sprinting full pace through the rain to get here, and saying a password on the door, I'm in the secret bunker. Located deep in the heart of the London city centre, it's the location for a private press screening of new Walking Dead companion series Fear The Walking Dead. Normally part of the art school, the grand chambers have been turned into a highly immersive safety zone. For the few hundred invitees there's military beds to lay on, ammo crates to sit on and uniformed staff giving out 'rations' i.e. finger and snack food wrapped in brown paper bags – all provided by The Epidemic Neutralisation Department (END). Indeed it's so convincing I half expect someone or something to leap out at me on my way to the toilet downstairs.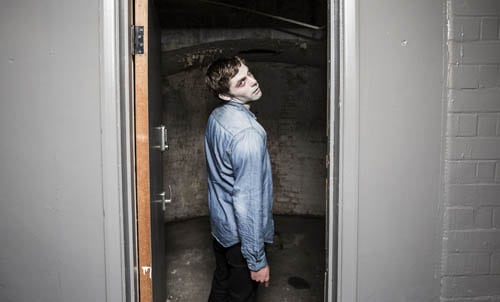 A few minutes later I'm drinking a cocktail out of a tin can "to cure any symptoms", eating a blood red cake with what looks like bone sticking out the top and speaking to a BT rep about their recent teaming up with AMC. Among the line-up are Breaking Bad, Mad Men and, of course, The Walking Dead. The brainchild of comic writer Robert Kirkman (who originally lied to publishers that the hoard would be alien in origin), this zombie drama is now among the most popular shows in the world. Between sips the rep's telling me how the new companion piece we're about to see (that's been breaking audience records across the pond) traces the zombie outbreak back to its routes, showing it from a very different angle. I want to hear more but the conversation gets disrupted by a screeching alarm, a loud shout and the sight of the armed guards dragging a woman out as she violently reaches out at the guests. We share a chuckle after.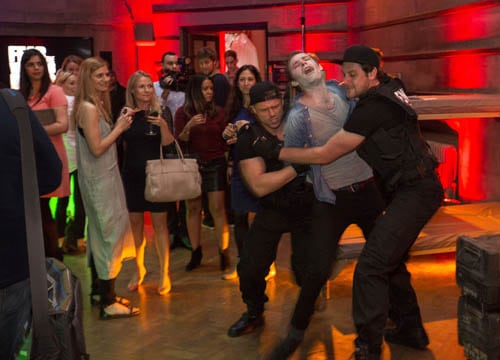 A couple of drinks later and we're invited into the screening room, draped in more END logos, where a projector shows an unnerving and special locally-made teaser about an upcoming infection. This is followed up by a pair of brief but chirpy speeches from AMC and BT representatives about their new partnership. In short, the latter are going to provide their UK customers with a subscription to the former to free of charge. So for whom that may concern, what's not to love? Well to find out if Fear The Walking Dead sweetens the deal, watch this space. But for now know that after the episode I took to the stormy streets again and sighed. Despite supposedly being the end of the world, I liked it better in the The Bunker.