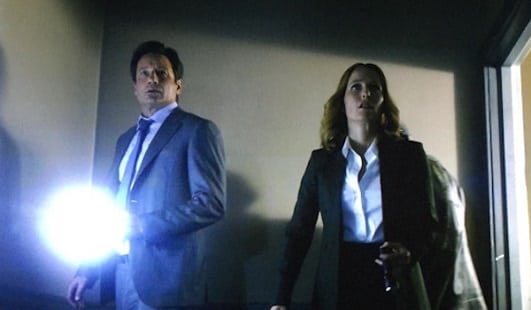 We have been teased and teased, and now finally comes the full length trailer for the return of The X-Files, and apart from a bit of poorly edited dialogue on Scully's part, the trailer looks gooooood!
THE X-FILES originally premiered in September 1993. Over the course of its nine-season run, the influential series went from breakout sci-fi favorite to massive global hit, and became one of the most successful television dramas of all time. The show, which earned 16 Emmy Awards, five Golden Globes and a Peabody Award, follows FBI special agents Scully (Anderson) and Mulder (Duchovny) as they investigate unexplained cases – "X-Files" – for which the only answers involve paranormal phenomena.
David Duchovny and Gillian Anderson to reprise their roles as FBI agents Fox Mulder and Dana Scully. The limited series also stars Mitch Pileggi, Joel McHale, Robbie Amell, Lauren Ambrose, Annabeth Gish, Annet Mahendru, Rhys Darby, Kumail Nanjiani, and William B. Davis
Three of the episodes are written and directed by Chris Carter, with the remaining new episodes written and directed by original series veterans Glen Morgan, Darin Morgan and James Wong.
Thirteen years after the original series run, FOX has ordered the next mind-bending chapter of THE X-FILES, a thrilling, six-episode event series which will be helmed by creator/executive producer Chris Carter with stars David Duchovny and Gillian Anderson re-inhabiting their roles as iconic FBI Agents Fox Mulder and Dana Scully. This marks the momentous return of the Emmy- and Golden Globe Award-winning pop culture phenomenon, which remains one of the longest-running sci-fi series in network television history.
In the opening episode, Mulder and Scully take on a case of a possible alien abductee. The all-new episodes will feature appearances by guest stars, including Joel McHale ("Community"), Robbie Amell ("The Flash"), Lauren Ambrose ("Dig," "Six Feet Under"), Annabeth Gish ("The Bridge"), Annet Mahendru ("The Americans"), Rhys Darby ("Flight of the Conchords"), Kumail Nanjiani ("Silicon Valley") and William B. Davis, who reprises his role as "Cigarette Smoking Man."
"The X-Files" returns on Sunday, January 24th, 2016 at 10pm EST and once again the following night at 8pm EST.