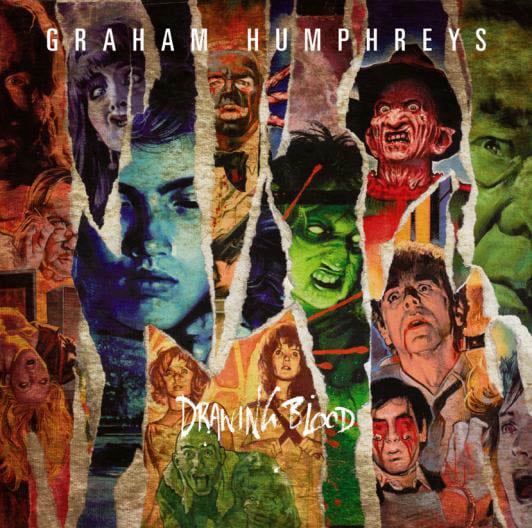 To celebrate the launch of their latest exhibition, on the works of UK movie artist Graham Humphreys, Proud Galleries in Camden invited a host of genre geeks for an evening of music, drinking and fandom.
A skilled illustrator, Humphreys quickly went from the small canvasses of Art College to billboards nationwide. His work is among the best of the 80s and beyond, with his macabre designs coming around at a point when special effects were getting closer to capturing the visceral visions of some of the best creatives around. British campaigns include the first 5 Elm Street movies, The Evil Dead series and Basket Case. Along the way he branched into magazines, designing imagery for gentlemen's publications such as Esquire, Arena and Loaded. In addition he has taken a stab at the music industry, with the NME and a host of Goth bands using his distinctly diabolical iconography. He has also done work for films by such directors as Richard Stanley, Rob Zombie and Robert Rodriguez.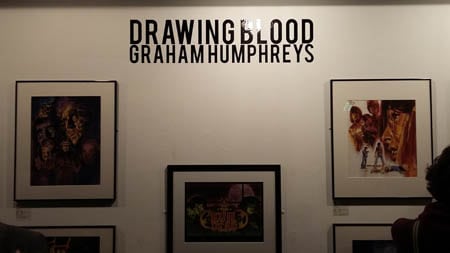 Walking into the gory gallery, I was greeted by a who's who of horror including Freddy, Carrie, Reanimator and The Evil Dead. All were brilliantly captured with a violent detail that felt ready to leap out the frame. Along with the more expected entries were some surprises including Bram Stoker, Lovecraft and, erm, Mel Gibson.
At roughly £1500, prints were a tad out of my reach. Still, for wealthy collectors they are an essential piece of macabre memorabilia. You can also purchase the coffee table book for £150, with entries by Sam Rami, Kim Newman and Brian James. Though hurry – numbers are strictly limited.
Drawing Blood runs until 22.11.15