Hellbound: Hellraiser II (1989)
Directed by: Tony Randel
Written by: Clive Barker, Peter Atkins
Starring: Ashley Laurence, Clare Higgins, Imogen Boorman, Kenneth Cranham

UK/USA
AVAILABLE ON BLU-RAY: 26th October, from ARROW VIDEO in HELLRAISER: THE SCARLET BOX, a limited edition run of 5,000 four disc sets

RUNNING TIME: 94 min
REVIEWED BY: Dr Lenera, Official HCF Critic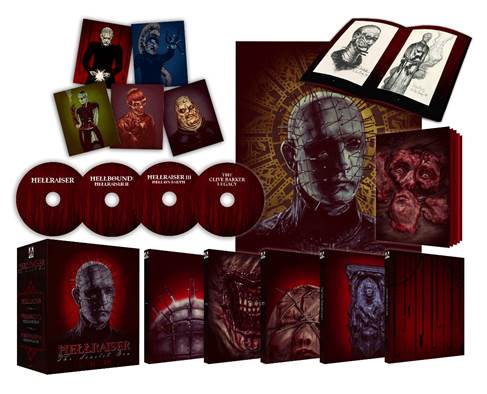 Sometime in the late 1920s or early 1930s, Captain Elliot Spencer opens a puzzle box and is transformed into the Cenobite Pinhead. In the 1980s, Kirsty Cotton awakes in the Channard Institute, a psychiatric hospital, where she is questioned about the events leading up to the destruction of her home, but of course isn't believed, except by Dr. Phillip Channard, who actually knows everything about the pox and is obsessed with it. When Kirsty finds a message in her room written in blood stating: "I am in Hell, help me", which she thinks was sent by her father, Kyle MadRae, Channard's assistant who is smitten with Kirsty, goes to tell Dr. Channard, but sees him revive Julia as a Cenobite….
I distinctly remember Hellbound: Hellraiser 2 getting a very bad reception when it came out, though it's one of those films that seems to have become more liked over time. Maybe some of that is due to the very poor reputation of most of the sequels that came after it. I recall enjoying it alot myself, and I enjoyed it alot again this time round. In fact, in what is probably a very controversial opinion, I think that in many ways it's as good as Hellraiser and a very appropriate continuation of it, so much so that you could easily put the two films together and turn them into one very long movie. It doesn't have the gritty edge of the first film, nor its psychological emphasis or slight sophistication, relies much more on special effects and gore [God this film is gory – I know that Arrow Video's version is not the one that was seen in cinemas, but I find it hard to believe that the filmmakers ever though that all the grisly stuff in the film would pass censors of the time], and doesn't always make much sense, but it still works as a weirder, even slightly surreal, extension of it, almost Italian in feel [as if Lucio Fulci decided to do an Italian variant of A Nightmare On Elm Street Part 3: Dream Warriors, or even follow up his own The Beyond], full of imagination and even visual bravura if not much logic. Unfortunately, things go downhill seriously in the final quarter, the film making some serious mistakes, and the budget is not high enough to convincingly realise the script's ambitions.
New World Cinema actually green lit this sequel while the first film was in post production. Barker wrote a short story synopsis and remained as executive producer, but handed over scripting and direction to Michael McDowell until he bowed out and was replaced by Peter Aitkins and Tony Randell, all of whom having worked with him on Hellraiser. Aitkin's script had to be hastily altered several times due to New World massively cutting the budget, causing most notably the removal of much of Pinhead's origins, and Andrew Robinson declining to reprise his role. Barbie Wilde replaced Grace Kirby as the Female Cenobite, while because of a neck accident, Kenneth Cranham only wore the Channard Cenobite makeup for one day, stuntman Bronco McLoughlin playing him for the rest of the shoot. Footage showing the Chatterer Cenobite changing slightly was cut, which explains why he looks a bit different for no reason after a while, while an almost completed scene featuring Kirsty and Tiffany encountering Pinhead and the Female Cenobite in the hospital was also discarded, though is now present on Arrow's Blu-ray [Hurray!].Hellbound was actually due to be Pinhead's final appearance in a Hellraiser film, the plan being for Julia to become the figurehead of the series, and she was intended to reappear at the end, but Pinhead was becoming so popular that the focus of the franchise was changed. Hellbound was cut by just over two minutes in cinemas, losing lots of blood spurts, some shots from the creations of Pinhead and the Channard Cenobite, most of Julia's resurrection, and one brief dream scene. The UK video lost a further few seconds.
Christopher Young's title music again expertly sets the scene, being grander than before, yet still based around the same chords and similar phrases. Hellbound actually opens with an edited version of the last few minutes of Hellraiser, and ten or so minutes later shows us more footage from its predecessor as Kirsty tells her listeners what we already know. This is rather pointless, since Hellbound came out in cinemas soon after Hellraiser and folk would have easily remembered it, and along with some awkward acting [though it gets significantly better] and one big coincidence – oh look, a mute girl who is good at solving puzzles, I wonder what she will do in a while – which is obviously put in there to advance the plot a bit later, doesn't get this sequel off to a particularly good start, but things do soon improve a great deal. It almost seems like we are in Hell already when we visit Channard's asylum, the camera slowly gliding along some pipes while we hear screams, then we get the resurrection of Julia, which is a truly horrific and bloody set piece. Having, I think, only now seen this sequence uncut for the first time, I couldn't believe how many times the patient, who thinks he's got maggots on him, cuts himself before Julia springs out from the bed, and how long the desperate struggle of the dying, blood covered man and the skinless Julia, went on for. It's not pleasant, but it's a good example of the nastier, more visceral kind of horror film working near its best with convincing effects and good staging. After this, Channard procures victims for Julia to drain and therefore become more human, but he actually seems to prefer her skinless, the two displaying a sexual attraction which is very perverse indeed.
With slight echoes of Bride Of Frankenstein and others, the film is nonetheless terrific stuff here, though it's not long now before it either gets even better or begins to lose it, depending on your taste, as our characters enter Hell. The Underworld seems to be mostly a series of tunnels [maybe even the same tunnel or two] which is disappointing to some but, don't forget, we are actually supposed to be inside the puzzle box. Having people witness their own visions of Hell results in some memorably disturbing images, like Tiffany seeing mad clowns, what looks to me like a giallo tribute, and a baby with its lips sewn shut, which sometimes show elements of a character's past and leave the viewer to work out the rest. Leviathan, the God of Flesh, Hunger and Desire is a huge rhomboid obelisk from which darkness pours out of, reminiscent of 2001's similar thing. I think – for some reason – it comes across as being genuinely frightening, its simplicity really working in its favour. The script makes a big mistake though in sidelining Pinhead and co. [okay, they weren't in the first film much, but considering we are in Hell it would be reasonable to assume that we would see much more of them in this one] in favour of a silly new creature, the Channard Cenobite connected to….something….by a giant penis, who likes to utter Freddy Krueger-style one-liners like: "Your case is closed Tiffany – I'm afraid its terminal", and dispatches the others in a fight that's virtually over before it's begun.
It's such a shame that Hellbound deteriorates towards the end, because for much of its length it really does come off. Atkins and Randel perhaps aimed too high, and this script most definitely could have done with a rewrite, far more than Hellraiser's screenplay, while the film could have also done with being a bit longer, but it's hard to fault a film too much for being overly ambitious. With some elaborate matte paintings and some so-so matting attempting to show the scale of Hell, the special effects, which even include some stop motion, are mostly very good – the skinless people look even better than before – and certainly have variety, something to be treasured when many of the effects in today's films are done with computers, while the film really should satisfy any viewer's blood lust with its array of gory images, from wires cutting into a face to a heart ripping to skin repeatedly just refusing to stay on. The fascination with body horror recalls Fulci and David Cronenberg, but there are some moments in Hell that seem closer to Mario Bava with their style of lighting. While he and cinematographer Robin Vidgeon largely replicate Barker's style, albeit with longer takes, Randel does sometimes exhibit some considerable visual flair with this movie, though the promise he showed wasn't followed through [though I remain very, very fond of Ticks] in what has turned out to be a disappointingly mediocre career.
Lawrence, though not required to exhibit the variety of emotions she had to do in Hellraiser, is again superbly chilling, and Kenneth Cranham is similarly so, at least when he's human, though his character really is a dumb-ass, wasting time on bringing back to life Julia when he had Tiffany around all the time, though this is probably just poor scriptwriting again. Lawrence, after a shaky start, becomes very good, having improved as an actress since the first film. Young's score, written for a much larger orchestra, comprising mostly of variations from material from the first time, gets a bit repetitious but still adds immensely to the film. Aside from possibly reminding us that what is inside our mind, even our subconscious, is more terrifying than anything that's external, Hellbound: Hellraiser 2 doesn't leave much food for thought, and it really does dip badly towards the end. However, it still hold up as an often imaginative and genuinely nightmarish trip, and is sufficiently different from the original to totally justify its existence while still fitting onto it very well. They really didn't need to make any more….
Rating:
Check out Ross Hughes's review of Hellbound.
Arrow's Blu-ray of Hellbound: Hellraiser 2, as contained in their Hellraiser: The Scarlet Box boxset, is grainier in places than Hellraiser, partly due to there being more matte work, though it's not something I personally mind. I like grain – it reminds me that I'm watching something shot on celluloid not digital. Again, the array of special features is very impressive, including a new commentary as well as an older one and the second part of the Leviathan: The Story Of Hellraiser documentary, which is almost a whopping two hours long and is crammed full of information and fun stories, including one about Barry Norman [who hated these films] visiting the set which still makes me chuckle. Plus you get that Surgery Scene which was thought lost for decades!
The set has apparently already sold out, but it seems that Arrow intend to release the films as standalone Blu-rays at some point soon.
4-DISC LIMITED EDITION CONTENTS
*Brand new 2K restorations of Hellraiser, Hellbound: Hellraiser II, and Hellraiser III: Hell on Earth
*Uncompressed PCM Stereo 2.0 and Lossless DTS-HD MA 5.1 sound for Hellraiser and Hellbound: Hellraiser II
*DTS-HD MA 2.0 sound for Hellraiser III: Hell on Earth
*English subtitles for the deaf and hard of hearing for all three films
*Limited Edition bonus disc
*Exclusive 200-page hardback book with new writing from Clive Barker archivists Phil and Sarah Stokes
*20-page booklet featuring never-before-seen original Hellraiser concept art
*Limited Edition packaging with new artwork from Gilles Vranckx
*Set of 5 exclusive art cards
*Fold-out reversible poster
DISC 1 – HELLRAISER
*Brand new 2K restoration approved by director of photography Robin Vidgeon
*Audio commentary with writer/director Clive Barker
*Audio commentary with Barker and actress Ashley Laurence
*Leviathan: The Story of Hellraiser – brand new version of the definitive documentary on the making of Hellraiser, featuring interviews with key cast and crew members
*Being Frank: Sean Chapman on Hellraiser – actor Sean Chapman talks candidly about playing the character of Frank Cotton in Barker's original
*Soundtrack Hell: The Story of the Abandoned Coil Score – Coil member Stephen Thrower on the Hellraiser score that almost was
*Hellraiser: Resurrection – vintage featurette including interviews with Clive Barker, actors Doug Bradley and Ashley Laurence, special make-up effects artist Bob Keen and others
*Under the Skin: Doug Bradley on Hellraiser
*Original EPK featuring on-set interviews with cast and crew
*Draft Screenplays [BD-ROM content]
*Trailers and TV Spots
*Image Gallery
DISC 2 – HELLBOUND: HELLRAISER II
*Brand new 2K restoration approved by director of photography Robin Vidgeon
*Audio Commentary with director Tony Randel and writer Peter Atkins
*Audio Commentary with Randel, Atkins and actress Ashley Laurence
*Leviathan: The Story of Hellbound: Hellraiser II – brand new version of the definitive documentary on the making of Hellbound, featuring interviews with key cast and crew members
*Being Frank: Sean Chapman on Hellbound – actor Sean Chapman talks about reprising the role of Frank Cotton in the first Hellraiser sequel
*Surgeon Scene – the home video world premiere of this legendary, never before-seen excised sequence from Hellbound, sourced from a VHS workprint
*Lost in the Labyrinth – vintage featurette including interviews with Barker, Randel, Keen, Atkins and others
*Under the Skin: Doug Bradley on Hellbound: Hellraiser II
*On-set interview with Clive Barker
*On-set interviews with cast and crew
*Behind-the-Scenes Footage
*Rare and unseen storyboards
*Draft Screenplay [BD-ROM content]
*Trailers and TV Spots
*Image Gallery
DISC 3 – HELLRAISER III: HELL ON EARTH
*Brand new 2K restoration of the Original Theatrical Version [93 mins]
*Alternate Unrated Version [97 mins]
*Brand new audio commentary with writer Peter Atkins
*Audio commentary with director Anthony Hickox and Doug Bradley
*Hell on Earth: The Story of Hellraiser III – making-of documentary featuring interviews with Atkins, Keen and actor Ken Carpenter
*Time with Terri – brand new interview with actress Paula Marshall
*Under the Skin: Doug Bradley on Hellraiser III: Hell on Earth
*Raising Hell on Earth – archival interview with Hickox
*On-set interviews with Barker and Bradley
*Never-before-seen Hellraiser III SFX dailies
*Theatrical Trailer
*Image Gallery
*Hellraiser III comic book adaptation [Disc gallery]
DISC 4 – THE CLIVE BARKER LEGACY – LIMITED EDITION EXCLUSIVE
*Clive Barker short films Salomé and The Forbidden
*Books of Blood & Beyond: The Literary Works of Clive Barker – horror author David Gatward provides a tour through Barker's written work, from the first Books of Blood to the recent The Scarlet Gospels
*Hellraiser: Evolutions – a brand new documentary looking at the evolution of the hit horror franchise and its enduring legacy, featuring interviews with Scott Derrickson [director, Hellraiser: Inferno], Rick Bota [director, Hellraiser: Hellseeker, Deader and Hellworld], Stuart Gordon [director, Re-Animator, From Beyond] and others
*The Hellraiser Chronicles: A Question of Faith – short film