Metal Hurlant Chronicles, Metal Hurlant Resurgence (2014)


Starring: Darren Shahlavi, Dominique Pinon, James Marsters, Karl E. Landler, Michael Biehn, Michael Jai White, Scott Adkins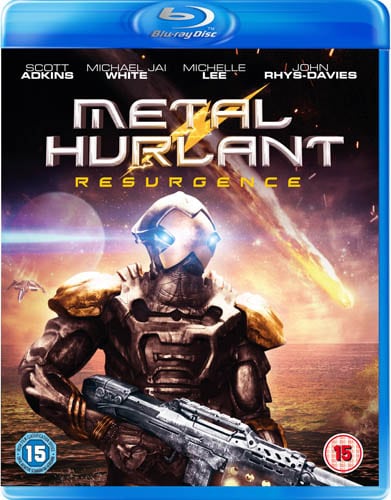 METAL HURLANT RESURGENCE (2014)
Metal Hurlant Chronicles Season 2
The asteroid known as Metal Hurlant, a ball of flaming fury that was once a planet destroyed by its inhabitants, continues to fly through space as it passes planets and space-ships, affecting the inhabitants of everything it passes.
Following on from anthology Metal Hurlant Chronicles Season 1, Season 2, also known as METAL HURLANT RESURGENCE, sees another six independent stories told with a suprise reappearance of a few familiar faces in the shape of Scott Adkins, James Marsters, Michael Jai White and Dominique Pinon. Some of the cast may have returned but for the most part they are playing different characters in different tales from those they starred in the first series. Well, everyone except for Dominique Pinon who's character in this season interestingly links with the one from the first. We also see some new faces in the shape of Michael Biehn as a Sheriff, the late martial arts star Darren Shahlavi as a mercenary and Lord of the Ring's John Rhys-Davies as Holgarth the alchemist.
METAL HURLANT RESURGENCE manages to maintain the high quality episodes as seen in Chronicles and drag us once again into warped scenarios where hybrid androids are hunting down the human race, a loyal warrior seeks to save his sick princess, a down-on-his-luck gambler discovers a treasure map, two brothers battle for control of the throne and a virtual reality business operates using questionable methods. Each of the episodes has a political, religious or moral ending which may sometimes surprise the viewer but always entertains in its own tongue-in-cheek fashion.
Witty, action-packed and meaningful, this anthology series has a lot to offer sci-fi fans with its slick stories set amongst a backdrop blend of CGI and practical FX. Character design seems to have improved since the last series too with the introduction of some amazing species. One is a grotesque creature who hunts down humans whilst the other is a long haired, honourable warrior who traverses space in order to find a cure for his ailing princess and isn't afraid of dealing out punishment to anyone who stands in his way.
Each of the episodes last around 25 minutes and not once do they outstay their welcome. They're succinct and pack a punch, showcasing that the short film art form is very much still alive and that anthology series can offer something that will engage and enrapture the viewer.
Sci-fi and fantasy fans will find plenty here to entertain them and with each episode telling its own unique tale, there's no need to watch them all in one sitting, even if a couple of them overlap slightly. An utter blast from start to finish.
Rating: