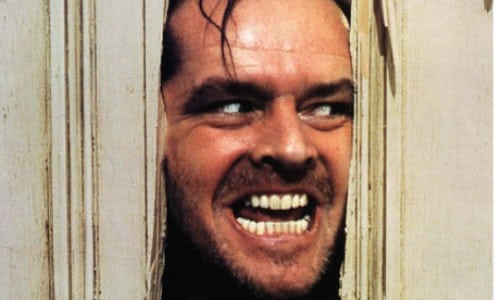 Much like this Suspiria remake which keeps rearing its ugly head [though I will say that I am now just a teeny bit excited about the Blade Runner sequel now that the very talented Denis Villenueve is on board, so opinions can change!] , nothing can convince me that any kind of follow-up to Stanley Kubrick's superb 1980 ghost story The Shining starring Jack Nicholson and Shelley Duvall, a film which wasn't received too well at the time but has gained considerably in standing and popularity since, is a good idea, even if the project that is being planned at Warners is based on a deleted prologue written by Stephen King called Before the Play, which is apparently:
"The origin story of the Overlook Hotel through the eyes of its first owner, Bob T. Watson. A robber baron at the turn of the 20th century, Watson scaled the remote peaks of the Colorado Rockies to build the grandest resort in America, and a place he and his family would also call home."
Nonetheless, the script for this thing by The Walking Dead's Glen Mazzara has been kicking around at Warners for some time. For a while it seemed that Alfonso Cuaron was going to direct, but he passed and made a little film called Gravity instead. Then One Hour Photo and Never Let Me Go's Mark Romanek accepted the offer to direct, though things appear to be moving forward very slowly. In any case, screenwriter-turned-director James Vanderbilt (Zodiac), has confirmed with Collider that if the The Shining prequel gets made, it'll definitely be a Mark Romanek film and won't just copy the original film.
" One of the things that's amazing about Mark is that he's a strong filmmaker with his own convictions, and Mark is gonna make the movie Mark is gonna make… I think there's something wonderful about a director who says, 'No, this is the film.' Fincher was the same way. It's like, 'This is the movie I wanna make. If you don't wanna make that movie, that's totally cool, then we won't make the movie.' And now as someone who's directed a film, that's kinda what you want. You want the captain of the ship to be like, 'I know what the film is, I know how to make it, let's go do it'.
" There's an air of mystery to Stanley Kubrick's The Shining, which is a part of why it's a terrifying horror movie. To explain that mystery to death is redundant, but that's not the plan. You want a real filmmaker like Mark doing it… Honestly I think people will really be excited about it, because it's not like '20 Years Before The Shining!'. I don't want to give too much away about the story but the way Glen cracked it and the way Mark has sort of cracked it, it's completely its own film, which I think is super smart. It's not like, 'When Scatman Crothers was young, he…' it's not that".
Well, he does make it sound a bit interesting and not just a totally pointless ruination of mystique [Prometheus, cough], but I want to know more concrete stuff before I'm convinced. Still, the project does still seem quite far away. And I wonder what Stephen King thinks of it?