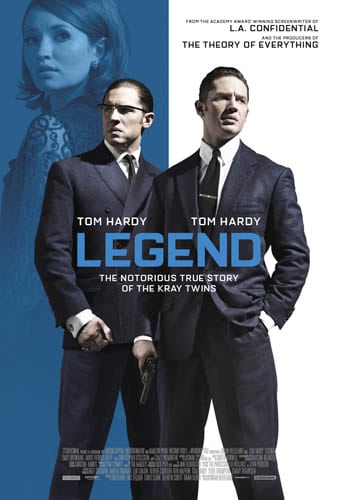 Following the 18M+ box office smash hit, Legend, the classic crime thriller with a sensational double performance by Tom Hardy as both Kray twins, will be coming to DVD, Blu-ray, Steelbook and VOD on 25th January 2016, courtesy of STUDIOCANAL
From Academy Award® winner Brian Helgeland (L.A. Confidential, Mystic River) and Working Title (The Theory of Everything) comes the true story of the rise and fall of London's most notorious gangsters, Reggie and Ronnie Kray, both portrayed by Tom Hardy (Inception, Mad Max: Fury Road) in a powerhouse double performance.
Together, the Kray Twins take over the city. But as their reign expands, power-struggles, fierce madness, and a woman diminishes their bond; the weak link that could cause their empire to collapse.
The strong supporting cast includes Emilie Browning (Pompeii), Christopher Ecclestone (Doctor Who), Taron Egerton (The Kingsman), Paul Bettany (A Beautiful Mind), David Thewlis (Theory of Everything) and Paul Anderson ('71). Cinematography from the multi-Oscar nominated Dick Pope and incredible costume design from Caroline Harris.
'Breaking the record for the biggest ever UK box office result for a British 18 cert film, Legend is the classic crime thriller that takes us into the secret history of the 1960s and the extraordinary events that secured the infamy of the Kray twins'