If you're a nerd, geek or whatever terminology you want to use if you're fanatical about pop culture, films, TV, gaming, stuff like that (and if you're reading this site you probably are), then you might want to check out My Geek Box.
My Geek Box is a monthly subscription box that contains mystery goodies and a t-shirt for a set price (as of Nov 2015 it's priced at £17.99).
In this review, I'll be taking a look at My Geek Box for October 2015, which has the theme Afterlife.
You can watch my unboxing video at the bottom of this review.
My Geek Box comes in a sky blue box, much like a shoe box but don't expect a pair of trainers inside. The box is branded with MyGeekBox lettering and hashtag whilst the social media handles are printed inside the box.
Opening the box, I find the first of the treats: a t-shirt.
You get to specify the size and fit of the t-shirt when ordering the My Geek Box so I went with women's fit Medium. You can choose from Men's Small to XXXL or Women's fit Small to XXL. The tee is a black, Gildan heavy cotton women's fit t-shirt with the word BOO! printed on the front in white. Simple but nice and very suitable considering it has arrived in time for Halloween. It's a nice weight of t-shirt, not too light and not too heavy; a fairly regular/mid weight garment.
Next in the box is… a sticker!
This sticker is one of those transparent types so would look good stuck on a window of a car or a bedroom. In the unboxing video I couldn't quite read what the bottom line said but I was correct in that it says Zombie Outbreak Responce Team. Yes, there's a typo on the sticker. It should say Response with an 's' not a 'c' but that's the grammar Nazi coming out in me. With a crossover image of two shotguns, plus a crosshair and biohazard symbol, this makes a fun little sticker to pop somewhere to show you kick zombie ass.
Next up, we have…. a bloody tea towel!
Right, so I'm guessing this is a tea-towel as I can't imagine it being anything else. It's white and measures 28″ x 20″ with red blood splatter all over it and bloody handprints. Have it out next time you have guests round and watch them squirm when you ask them to hand you the tea towel. They'll begin to question if you're really that nice neighbour/friend or whether you're a psycho killer. A brill gimicky item that is a must in any horror fan's kitchen.
What's next in the box? A vampire puzzle!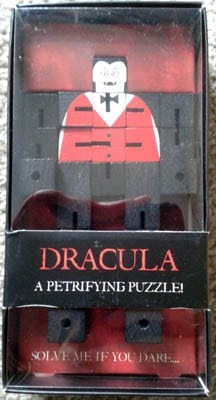 The Dracula petrifying puzzle is basically a figure made from cubes with elastic running throughout. On it is a cute painted Count Dracula. The aim is turn this block version of Dracula, that you can actually stand up on a surface, into a cube. Easier said than done. I've only had a little play of it so far and I thought I'd cracked it straight away but nope, it wasn't right. I can see this being a bit like a Rubik's cube although maybe not as hard to solve. If I do get stuck with this, there's the solution on a little sheet inside the box. Apparently there's Dracula, Mummy, Zombie and Frankenstein puzzles of this kind, so three others to collect if you want to get collect them all.
The penultimate item in the Afterlife My Geek Box is…. a Zombie metal wall sign!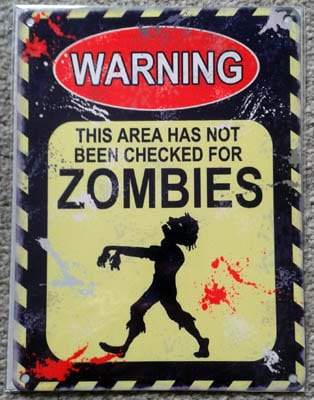 Ideal for your man or lady cave, bedroom, study or garage, the metal wall sign features the text 'Warning. This area has not been checked for zombies' in a yellow and black warning style design. It has a hole in each of the four corners so you can easily fix it to your wall. A nice, solid metal wall sign for zombie fans out there.
The final mystery treat in the box is…. a graphic novel!
Twisted Dark: Volume One by Neil Gibson is a beautiful 201+ page graphic novel. It features black and white artwork in what appears to be a selection of short stories. It's "Highly Recommended" by Bleeding Cool so horror fans should be in for a treat.
I'm looking forward to getting stuck into this book. I've only had a quick flick through it so far and the opening bit where the author Neil Gibson compares himself with Mel Gibson is quite witty so I look forward to seeing what stories unfold inside. The book itself is of very high quality and is priced on the back at $9.99. I'd definitely say this is the best item of the box.
So there we have it. Five different mystery items in a box that link with the theme 'Afterlife' from subscription box MyGeekBox.
November's box is themed Movies and Television so you might want to check that out. The next box theme will always be listed on the My Geek Box homepage so if you fancy getting a mystery box of nerd goodies, then visit My Geek Box.
Until 31st December 2016, new customers to My Geek Box can use voucher code HELLO to get 10% off their subscription.