The Reflecting Skin (1990)
Directed by: Philip Ridley
Written by: Philip Ridley
Starring: David Bloom, Duncan Fraser, Jeremy Cooper, Lindsay Duncan, Viggo Mortensen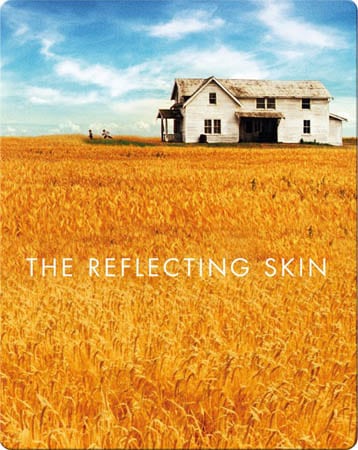 THE REFLECTING SKIN
Written and directed by Philip Ridley
Available on Steelbook from 30th November 2015
Eight year old boy Seth Dove loves to cause mischief with his friends Kim and Aben in the 1950's Mid-West. After learning about vampires from his father, who's reading a fictional book about them, Seth begins to suspect English widowed neighbour Dolphin Blue is one. When Aben goes missing and the finger is pointed at his father, Seth is convinced that Dolphin is the culprit and that she's sucked his blood to stay young. Things go from bad to worse for the young boy when his brother Cameron returns home from the army and falls for Dolphin. Will his brother be next?
Beautifully shot by cinematographer Dick Pope, THE REFLECTING SKIN is a unique, almost surreal, coming-of-age work from The Krays screenwriter Philip Ridley, who both writes and directs this strange yet compelling cult film. The movie portrays life in the Mid-West through the eyes of a young boy and how he perceives the world. When his friend goes missing, he's convinced of the idea that his neighbour, whom he often torments, is a vampire. When others go missing, he's still wrapped up in the idea of Dolphin being a vampire that he's unable to see the world as it really is and understand what is actually going on around him. A young boy with a vivid imagination, he becomes obsessed with what he believes to be true instead of seeing the actual truth which unravels around him.
Young Seth (Jeremy Cooper) and his friends clearly have too much time on their hands in their small unnamed dusty town. With little to do other than cause mischief, the opening scene finds the trio blowing up a bullfrog with bloody effect. As an animal lover, and one who particularly loves frogs, I found this scene to be a bit distressing so if you're an animal lover do be warned. Though a cute boy and polite when required, Seth is quite a handful when he gets bored which is usually very quickly. His meeting with blonde-haired widow Dolphin (Rome's Lindsey Duncan) is quite sad as she lays her soul bare but Seth turns everything in front of him into fuel for his ideas of vampirism. Even his punishing mother and distant father are clueless as to what their son is up to and though Cameron's (Viggo Mortensen) return home gives a bit of stability to Seth as a sane role model, he's too nfatuated with Dolphin to realise what's going on with his younger brother or what he's keeping under the bed.
At the core of it, the tale of THE REFLECTING SKIN is a simple one and for its 95 minutes running time there's not much dialogue to speak of. Not that there needs to be, however, as everything that is needed to be said is done and speaks volumes about what's happening in this small American prairie town. The rest of the film is bulked up with some breathtaking cinematography, taking in lush golden wheat field landscapes and deep blue skies. Who could believe such horrors could be occurring in this picturesque haven?
Although having never seen THE REFLECTING SKIN on any other format, Blu-Ray is most definitely the home for this type of work, as visually strong as it is. The audio is still 2.0 stereo but the HD transfer is mesmerising. Film fans will be pleased to know that there's a 44 minute interview with writer/director Philip Ridley and cinematographer Dick Pope on the disc as well as Ridley's two short films Visiting Mr Beak and The Universe of Dermot Finn, trailers, gallery and audio commentary by Philip Ridley. The steelbook exclusive also comes with a Fetal Blossom art card individually signed by Ridley.
There's something captivating about THE REFLECTING SKIN which makes it unlike any other film I've seen. The visuals are certainly the strongest aspect of the movie though the story as a whole, with its dark underbelly, will both disturb and delight.
Rating: