Ferocious Planet (2011)
Directed by: Billy O'Brien
Written by: Douglas G. Davis
Starring: Catherine Walker, Dagmar Döring, Joe Flanigan, John Rhys-Davies, Michael Yare, Robert Soohan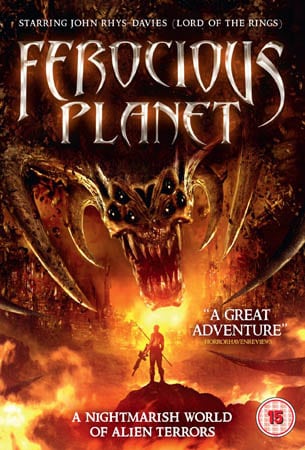 FEROCIOUS PLANET (2011)
Directed by Billy O'Brien
Inviting government officials to witness their experiments for further funding of their research, Dr. Jillian O'Hara and her assistant Brian showcase their technology that lets them see into other dimensions. When their machine malfunctions, the group find themselves in a new and dangerous land full of gigantic beastly creatures who wish to do them harm. Having fallen into another dimension, Jillian and Brian must fix the machine and help return all the group to safety but to do that they must do what they can to survive with a little help from disgraced Colonel Sam Synn.
B-movie monster flick FEROCIOUS PLANET has Sy-Fy written on all over it in this cheesey, CGI-laden horror. Featuring the acting chops of Lord of the Rings star John Rhys-Davies as a uptight, disgruntled Senator Jackson and Metal Hulant Chronicles and Stargate: Atlantis' Joe Flanigan as action man, Colonel Sam Synn, FEROCIOUS PLANET injects humour, action and science fiction into a tale that thrusts humans into a nightmarish dimension where creatures bleed ammonia and spurt face-melting acid from their internal organs. Towering over the humans like dinosaurs, these other-worldly creatures present the biggest threat to the stranded humans and thus their fate lies in the hands of Dr. Gillian and Brian who urgently need water to fix their broken machine. The group must venture into the dense forests of the foreign land to find a water source but government dcotor Karen Fast is more interested in gaining evidence of intelligence on this new planet and seeks to make contact with what she suspects to be an highly intelligent lifeform which has crafted a sophisticated piece of architecture in the distance.
For what it's worth, FEROCIOUS PLANET has plenty to like about it. The cast happily play up to their designated characters, embracing the corny dialogue and one-liners, and react well to the CGI predators who are looking to hunt them down. Everything about their situation is believable even if the threat is so obviously computer generated. There's some cool death scenes too that creature feature fans will surely lap up. However, as fun and entertaining as the film may be to fans of budget cinema, the film unfortunately winds up into an empty outcome that may leave you a little disheartened as it did me. I expect these sort of films to include all sorts of craziness and I applaud them for that but FEROCIOUS PLANET walks away after breaking through the finish line instead of celebrating or going out in style. The flat conclusion doesn't sit right with the film though it handily keeps things open in case SyFy desire to produce a sequel to the film.
As it initially aired as a TV movie, FEROCIOUS PLANET has quite a few fade-to-black breaks in the movie which stunts the momentum of the movie a little. Outside of this though, the film offers laughs and thrills that will keep you watching throughout the 88 minutes running time.
It might not reach the heights of some of its creature feature counterparts but FEROCIOUS PLANET will definitely raise a smile or two amongst B-movie enthusiasts.
Rating: