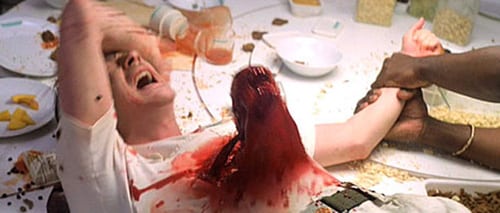 How is this for some brilliant Sunday Morning movie news?
Ridley Scott has more or less confirmed that the new Alien: Covenant film will contain scenes many fans of the franchise cherish and love….yes we talking "face hugging" and also a bit of "chest busting".
This stunning revelation came from an interview with The Wrap when he was asked about the sequel to Prometheus.
"They're going to go to the planet where the Engineers came from, and come across the evolving creature that they had made. Why did they make it? Why would they make such a terrifying beast? It felt bio-mechanoid, it felt like a weapon. And so the movie will explain that, and reintroduce the Alien back into it."
"There was always this discussion: Is Alien, the character, the beast, played out or not?. We'll have them all: egg, face-hugger, chest-burster, then the big boy."
Wow!
Its interesting at the moment about the state of the A L I E N franchise with fans more excited about the prospect of the now delayed Neill Blomkamp Alien 5 that would have seen Ripley's return than a follow up to Prometheus, but with this news, perhaps Scott has appeased the hard core fans out there.
Scott recently admitted he was inspired to return to the franchise because of the rebirth of Star Wars, so I am curious to see where the legendary director will now take the franchise he started way back in the late 70's.
Ross Hughes