The Quiet Man (1952)
Directed by: John Ford
Written by: Frank S. Nugent
Starring: Barry Fitzgerald, John Wayne, Maureen O'Hara, Ward Bond

USA
ON BLU-RAY: NOW, from EUREKA ENTERTAINMENT
RUNNING TIME: 129 min
REVIEWED BY: Dr Lenera, Official HCF Critic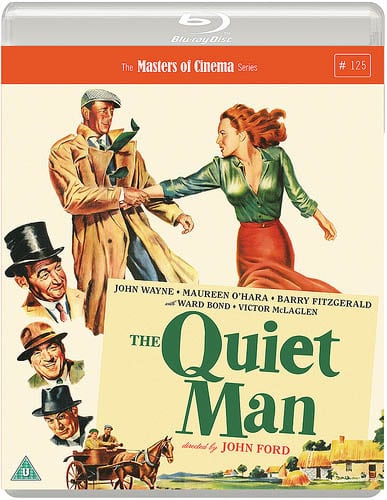 In the 1920s, Sean Thornton, an Irish-born American ex-boxer from Pittsburgh, travels to Ireland to reclaim his family's farm and his birthplace in Inisfree. On the way, he sees and immediately falls in love with Mary Kate Danaher, a redhead with a temper to match. Sean wants to buy the ancestral Thornton cottage from well-to-do widow Sarah Tillane, but finds himself in a squabble with "Red" Will Danaher, a neighbour who is Mary's brother and and would-be suitor of the widow Tillane who, angered by Danaher's presumptuous attitude and bragging at the local pub, sells the land to Thornton. He retaliates by refusing consent for his sister to marry, but Thornton won't give up on Mary so easily….
Count The Quiet Man as another "classic" that has always passed me by up to now, and I can't say that it used to appeal to me very much, but, by God, this is a wonderful movie, a truly lovely, warm-hearted [without ever seeming cloying] whimsical romantic comedy that truly is the kind of film that they don't make 'em like anymore, and perhaps that's a good thing, because the PC brigade would probably be up in arms about things like the supposed stereotyping of the Irish [despite the fact that the director was Irish and the film is a nostalgic, idealistic love letter to his native land], and the supposed glorification of violence against women [despite the fact that it's clear, I would have thought to anyone, that the woman has the upper hand in the film's central relationship, so much so that you can almost see her pulling the strings of her puppet man on-screen]. Just like the way Sean quickly falls in love with Sarah at first sight, I quickly fell in love [so much so that this review probably comes across as a bit messy and undisciplined, while it could also have been twice as long] with this gloriously romantic, yet lusty [it's actually quite modern in some ways and not as simplistic as at first may seem apparent] film with its terrific characters, huge heart and beautiful scenery whose enduring popularity, I think, partly stems from the desire that we probably all have from time to time [and in fact probably more so now with the hectic lives so many of us lead], of wanting to escape to the countryside and lead a simpler, slower life.
While obviously inspired by The Taming Of The Shrew, it was based on a 1933 short story by Maurice Walsh entitled The Green Rushes. Director John Ford read it and bought it that year, though didn't try to make it for another 19 years and even then studios were reluctant until Republic Pictures agreed to finance the film with Ford, John Wayne and Maureen O' Hara but only if all three agreed to first make a western, something that was a dead cert at the box office, which they did [Rio Grande] before heading off to Ireland, namely County Mayo and County Galway. Richard Llewellyn's screenplay was set during the Troubles, but Ford had it rewritten by Frank Nugent to remove most of the politics. O' Hara badly injured her hand and her back respectively in separate scenes, but carried on with no time off. A line spoken by O' Hara to Wayne at the film's conclusion to get a big reaction out of him remains a mystery to this day. One of the conditions that Republic placed on Ford was that the film run under two hours, and he cut some scenes like an opening with Thornton on the train talking to a mother and a child, Mary speaking in Gaelic to greet Sean for the first time, and Father Lonergan and Michaleen discussing betting on horses which was deemed offensive because Lonergan was a priest.  However, the finished picture was still two hours and nine minutes. When screening the film for Republic executives, Ford stopped the film at approximately two hours in, on the verge of the climactic fistfight, causing the execs to relent and allow the film to run its full length. The film won two Oscars though Ford, rarely the nicest of people, used his influence so that O' Hara didn't get nominated because of a row they'd had. Still, when O'Hara passed away three months ago this year, her family stated that she listened to the music from The Quiet Man during her final hours.
One of the two Oscars The Quiet Man won was for Best Cinematography and rarely was an award better deserved, because this film is stunningly photographed right from the opening shot of a lake and a church partly illuminated by the sun rising behind some trees. Even in the early scenes of Thornton returning to Ireland, the country is so gorgeously shot that I just wanted to be there; honestly, I'm not sure I've ever seen such scenery shot so amazingly [for me it beats, for example, the original Far From The Madding Crowd in this respect], and I'm not sure I ever want to go to the locations, because I doubt they'll look as good as Winton C. Hoch makes them look and I'll just be very disappointed. Unfortunately along with all this you get a bit of back projection, one of those mostly 'old school' techniques that can't really help but jar to modern eyes even if, like me, you watch as many old movies as new ones, and it really hampers a major set piece later on involving a horse race, though it's hard to really criticise the film for having this when it used to be the norm. Never mind, we soon get one of the loveliest examples of movie 'love at first sight', set to a truly beautiful tune, as Thornton sees the vision of loveliness that is O' Hara herding sheep, and she's shot from an odd angle and with an unusual overhead shadow, something which many inferior directors would have blown but Ford pulls off. She looks back at him several times, and the emphasis on this clues you onto the fact that this is going to be her story as much as it is Thornton's.
One of the many, many things I adored about this movie is how passionate and earthy it is, despite it still being a 'U' certificate film that is perfectly suitable for the whole family. Our couple have to conduct their courtship in traditional Irish manner, with even the walking and talking having to take place with a person driving a coach a few feet behind them, yet their third meeting involves Sean finding Mary cleaning his new house for him and he grabs hold of her and kisses her while the wind blows in through the open door blowing Mary's hair all over the place [what a stunning shot!]. A later smooch in the rain [Four Weddings And A what?] is genuinely erotic, something aided again by the elements not transpiring against them but bringing them together. The film is amazingly frank throughout, from lines like: "You said it was good morning, but it was good night you had on your mind", to a terrific response to the sight of the newlywed's broken bed, to Mary bringing her bedroom predicaments to Father Lonergan, which they discuss in what sounds like very frank, if incomprehensible to most of us, Gaelic. So yes, Sean and Mary do get married half way through the film, aided by some mechanisms by his new friends, but the tension between them is only augmented, because she doesn't feel comfortable being married without her dowry and therefore won't let him share her bed, while he thinks she's just selfishly materialistic. The viewer is made to feel that both are at fault but she's clearly controlling him. Yes, he does pull and drag her across four miles of countryside, becoming the brute that, in part [sorry feminists] she wants him to become, and both she and an old woman offers him a stick to beat her with, but he refuses. The only aspect of the film I found especially dated is the fact that the pub has no women in it!
Aside from Sean vs Mary and American customs clashing with Irish ones, the other main conflicts in the film are Sean vs. his past [cue one flashback which is such brilliant economy of storytelling!] and Sean vs. the heavy drinking [mind you, it's a Ford film, so it's a very boozy one throughout with most of its male characters on the sauce at times], cruel neighbour Will. Their various encounters are ripe with tension and eventually explode into a brawl which is highly memorable even if there's as much emphasis on people's reactions to the fight as the combatants themselves, 66 year old Victor McLaglen [whom Ford told his performance was lousy to get him primed for the scene] being rather old, and it ending somewhat abruptly, though the finish fits in with the cosy portrait of an idealised Irish society, with no social divisions based on class or religion, and even the local Catholic and Protestant priests being so friendly that the Catholic, knowing that his parish is almost completely Catholic, rallies his congregation to line the parade route when the Protestant Bishop visits, so that the local minister won't be moved to another parish. Yes, much of this film is an unrealistic, bittersweet fantasy [though there's one pointed moment when someone is asked if the IRA was in on something and he replies:"If it were, not a scorched stone of your fine house would be standing"], but that doesn't at all make it any less of worth, and nor does the emphasis on humour of a very warm kind, the funniest bit for me being when Michaleen Flynn, guide, chaperone and now very sozzled transmitter of Sean's intentions to Mary, just can't get his words right.
Of course the photography is beautiful throughout, down to simple shots like Mary answering the door, some of her hair being lit up beautifully. Typically, Ford tends to let scenes largely play out in master shots, emphasising the pictorial beauty of every setting and with characters usually arranged in shots in a painterly, very painstaking manner, which means that when the more varied cutting of the fight begins, it hits you like a punch. He peoples The Quiet Man with many of his regulars like Ward Bond, Mildred Natwick, Ken Curtis and Barry Fitzgerald and Arthur Shields, plus lots of Irish stage actors. Wayne is in some respects just Wayne, but he could show great sensitivity when it was required, and certainly does so here as well as exhibiting a lighter touch than I'm used to seeing. No, Wayne was never a great actor, but he was a great movie actor. O' Hara is incredibly lovely and exudes pluckiness and love of life. Composer Victor Young scores the film with mostly Irish folk tunes and they work superbly. I never expected to enjoy The Quiet Man, probably the personal film to come from Ford [a director whom I think you have to be of a certain age to really appreciate – I enjoyed his movies as a kid, grew to really dislike them as a teenager but have begun to love them as a rather older adult], anywhere near as much as I did. It's just delightful from beginning to end as well as being a genuine work of popular art. Even if this doesn't sound like your cup of tea, which may certainly be the case if you're a regular reader of a website called Horror Cult Films, I implore you to do yourself a favour and buy The Quiet Man.
Rating:
Eureka Entertainment bring this masterpiece to Blu-ray in possibly the best transfer of a 50's film I've seen for home viewing. I reckon it probably both replicates the Technicolour format perfectly and makes the film look even better than it did in 1952 cinemas. The colours are so deep and vivid while the grain, aside from some shots featuring back projection, seems extremely evenly distributed. The set isn't packed with special features, but a documentary from 1992 which was previously on the [from what I can work out, inferior] Region 'A' Blu-ray, is enjoyable viewing, alongside a new video essay which is highly informative.
SPECIAL FEATURES
*Gorgeous high-definition 1080p presentation on the Blu-ray
*Optional English subtitles for the deaf and hard-of-hearing
*New and exclusive video essay on the film by Ford expert and scholar Tag Gallagher
*The Making of The Quiet Man – documentary
*Original theatrical trailer
*52-PAGE BOOKLET featuring new writing by Sheila O'Malley; a 1953 profile of John Wayne; a 1955 profile of John Ford; an essay on cinematographer Winton C. Hoch; the original short story and archival imagery