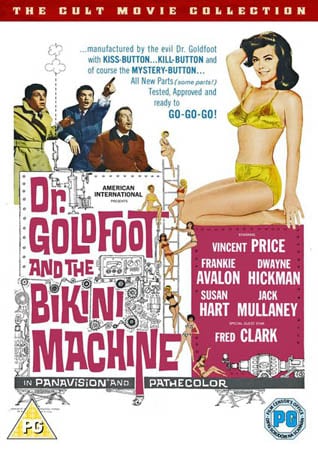 101 Films are set to release DR. GOLDFOOT AND THE BIKINI MACHINE and DR. GOLDFOOT AND THE GIRL BOMBS on DVD and Blu-Ray on 25th January 2016.
The dastardly Dr. Goldfoot (Vincent Price) and his sidekick, Igor (Jack Mullaney), build a machine that mass-produces an army of bikini-clad beauties. Goldfoot programs the vixens to seduce the wealthiest men alive and convince them to sign their fortunes over to him so that he may take over the world!
Before long, the manufactured women begin to succeed and one robot (Susan Hart) is sent to coax multimillionaire Todd Armstrong (Dwayne Hickman) into handing over his wealth. Hot on her tail is government spy Craig Gamble (Frankie Avalon), as he attempts to take down her and the other femme fatales and bring Goldfoot's plan to a screeching halt. But is the spy immune to her charms?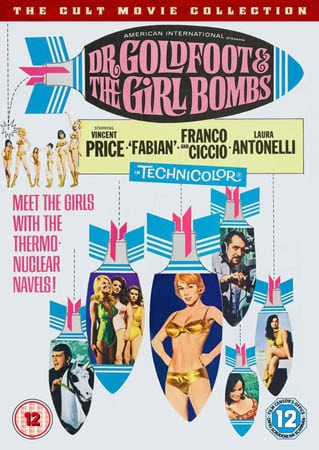 In this sequel to DR GOLDFOOT AND THE BIKINI MACHINE, the scheming Dr. Goldfoot is back and determined to conquer the world yet again!
This time, Dr. G. intends to undermine America by unleashing an army of voluptuous, exploding female robots. He sends these beautiful weapons of mass destruction out into the world, each one programmed to seduce high-ranking generals of NATO countries and then blow them up! The bad doctor's plan is nefarious: start a war between the US and the USSR.
Fortunately for the citizens of the globe, suave secret agent Bill Dexter (Fabian) is out to foil Goldfoot's plans, which involve kidnapping a prominent American general who bears a striking resemblance to Goldfoot.