If you're an entertainment fan, then you'll probably enjoy or collect the merchandise that comes with it. Whether you're hooked on a television series, collect comics,  game all night long on the console/PC or have a DVD and Blu-Ray collection that will fill a small shop, then My Geek Box wil be right up your street.
Back in November, I did an unboxing review of the October edition of My Geek Box mystery subsciption box. Subscribers receive a box filled with mystery goodies each month and your only clue as to what will be waiting for you in the box is the theme. October's was Afterlife and in this unboxing review, I'll be taking a look at December 2015 My Geek Box who's theme is Battle.
You can watch my unboxing video at the bottom of this review.
Each My Geek Box comes in a blue shoe-box type box filled with goodies but the Battle Geek Box came with an item that was too big to fit inside and instead was sat on top of the Geek Box inside the big brown box they both came in. Imagine my delight when I saw this iconic martial arts master immortalised in figurine format!
My Geek Box couldn't have chosen a better product to include in this month's box. I gasped as I opened the box to find this treat inside. The Official Bruce Lee collectable from Fanatiks is such a top quality figurine that you might not want to undo it from its packaging. With his pewter grey pants, black waistband and black shoes, the Bruce Lee figurine looks every inch like the ripped martial arts expert. They've even included details such as veins on the arms! This is such a wonderful piece of memorabilia of Bruce flexing and, should you wish, there's other Bruce Lee collectable figurines in different poses from Fanatiks at very reasonable prices if you want to start a collection.
With such an excellent item kickstarting the Battle box, I wondered if there was more super suprises to come and I wasn't let down.
With each My Geek Box arriving with a t-shirt in one's preferred size, I was delighted to find a white t-shirt inside sporting a Hadouken Black Belt academy, red and black logo on the front. This is of course a nod to videogame series Street Fighter and the energy ball/fireball technique performed by character Ryu.
The t-shirt itself is soft and lightweight and fits absolutely great! (I chose women's fit medium). As I study martial arts anyhow and am coming up to my black belt grading in a couple of months, this is such a suitable t-shirt for me in many ways other than just as a fan of Street Fighter.
Who fights in the entertainment universe? Comic book superheroes, of course! The third mystery item inside the Geek Box is a pack of six pin badges, four small and two larger, bearing the emblems of six of DC Comics superheroes including Batman, Superman, The Flash, Green Lantern, Wonder Woman and Robin (if you've seen my unboxing video, I realised R was for Robin straight after I recorded it!). These would be great for sticking on your backpack, lapel or whatever else you can find to pin them to.
With the penultimate product concealed inside a white box, I wondered what could be hidden inside. When I eventually managed to get the box open, I was delighted to find a white mug with Dragon Ball Z character Goku on it, both in his normal form and super saiyan. Although I'm not a fan of Dragon Ball Z and haven't really seen the animated programme, the mug is a really nice item, bursting with colour, and I know I will make good use of it during my morning and evening brews.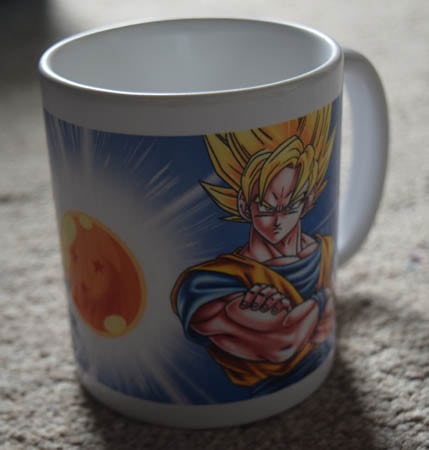 The fifth and final item of the Battle edition box is a My Geek Box exclusive, issue one of Street Fight Unlimited comic. In the main story of the comic, Ryu must deal with his personal demons with help from Ken and Sagat whilst there's two other brief but funny stories that fans of the series will surely enjoy. The artwork is bright and wild, full of energy and a joy to read though I wish there were a couple more stories included inside instead of 8 pages of adverts at the back showcasing other Street Fighter publications.
Overall, the My Geek Box Battle edition has proved to be an exciting box with high quality items inside that were both a surprise and definitely worth getting my hands on. With the box containing mystery products, it's usually common place for recipients to not like all the items inside but I can genuinely say that I'm pleased with all the items included. There's enough variety in there to cover all angles and I think My Geek Box did a great job of including items that would appeal to battle fans, especially with the Street Fighter and Bruce Lee items.
The next My Geek Box theme is Legends with hints that it may contain Zelda, Halo, DC Comics and Marvel items.
You can place a subscription for My Geek Box on their website and if you're a new customer use voucher code HELLO at checkout to receive 10% off your subscription. This code expires 31st December 2016.