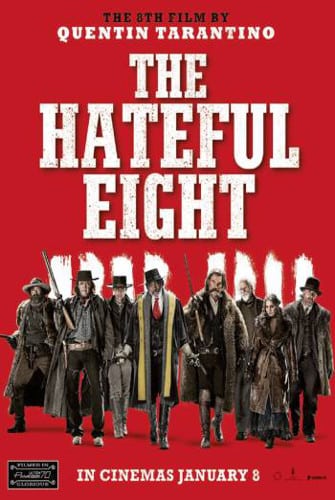 Though it was almost absurdly long winded, I enjoyed The Hateful Eight a great deal and feel that, with two very good films in a row, Quentin Tarantino is now past his weak period. One thing that struck me is how much like a stage play it is, and how well it would work on stage. Well surprise suprise, Tarantino is considering creating a stage version of the film. He actually toyed with the idea back when his screenplay for The Hateful Eight was leaked on the web, the writer-director so furious that he almost thought of abandoning the project as a film altogether. He considered mounting a live stage reading of the script instead, but of course eventually opted to go with the film, albeit with a few changes to the script including a different ending. However, he hasn't entirely given up on this stage idea. Speaking to The Wrap following the Golden Globes, Tarantino said:
"Harvey actually tried to talk me into doing it as a play first. He said, 'Let's just say this out loud before we commit to doing the movie.' And I was like, 'Look, I could. But I like the mystery aspect and the mystery aspect will really only work in the movie. And I have the 70mm and I have the snow. So let me do that.'"
"I'm just waiting for this [awards] season to be over so I can write it. I gotta put myself there and write it for this."
Now whenever Tarantino says that he's considering or even going to commit to a project, it's often fustrating for fans because these things rarely come to fruition. Remember, for example, that Vega Brothers prequel that got Pulp Fiction lovers excited beyond measure? Still, he's directed stage plays before, most notably a revival of Wait Until Dark [which was a film in 1967]  starring Marisa Tomei and Stephen Lang.