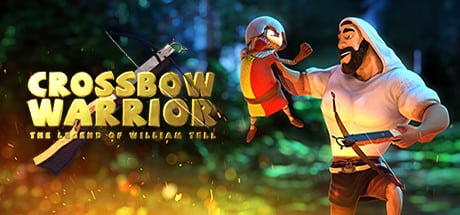 CROSSBOW WARRIOR – THE LEGEND OF WILLIAM TELL
Developed by MobyDick Games
Published by Scherrer Medien GmbH
CROSSBOW WARRIOR – THE LEGEND OF WILLIAM TELL is a single player PC game that tells the story of the legendary Swiss archer in the guise of a platform game.
Clearly skipping leg day, William is one buff dude wearing a hoodie and sporting a beard – very modern! With glorious graphics and a witty narrative, the player must jump, collect and shoot William's crossbow to complete a series of levels. Depending on how well you perform each level's objectives, how many items you collect and how fast your complete the level results in a score out of three. You can retry the levels as often as you like to try and get full marks for completion but as long as you complete the level with at least one of the three 'medals' achieved, futher levels will be unlocked for you to complete.
As much as I liked the idea of the game and its visuals, I had problems playing CROSSBOW WARRIOR – THE LEGEND OF WILLIAM TELL. It's 3D design and side scrolling nature made me extremely motion sick in a matter of minutes of playing. This usually happens with blurred gaming or first person games so I was surprised that this game caused me to feel severely ill so quickly. Due to this effect, I've been unable to play much of the game but enough to get an impression of how it works.
The levels of the game are pretty straight forward with items to jump and collect, enemies to either jump and avoid or shoot with your crossbow and mechanisms that need to be activated by firing at a target. William's crossbow abilities aren't the usual standard aiming system prefering to only allow the player to aim up or down as William crouches so you must position William in the right place first, level with the target, in order to aim correctly.
Whilst the game has its merits, there seems to be a certain magic missing from the game. I feel like there should be cutscenes between each level, much like the brilliant opening cutscene, and the levels themselves feel a bit too rigid to really be enjoyable and fun. Unlike some other platform games, William and the controls feel too stiff and having a looser, fluid feel would improve the game somewhat.
The overall design of the game of its characters and visuals is quite spectacular though and isn't something I've seen from an indie title for quite some time. Whether these lush visuals are to blame for the motion sickness, I'm not 100% sure, but its certainly a treat for those who don't suffer.
I sincerely hope I can return to playing CROSSBOW WARRIOR – THE LEGEND OF WILLIAM TELL as I'd love to explore the game some more. It's nature theme is a joy to behold and I believe there's plenty more of the natural setting to explore.
CROSSBOW WARRIOR – THE LEGEND OF WILLIAM TELL can be played using Xbox 360 Controller for Windows and also has Steam achievements which can be unlocked.
Though I don't wish to rate the game as a whole ass I've been unable to play it too much, of what I've experienced, I'd give it:
Rating: