Bunny The Killer Thing (2015)
Directed by: Joonas Makkonen
Written by: Joonas Makkonen, Miika J. Norvanto
Starring: Enni Ojutkangas, Hiski Hämäläinen, Jari Manninen, Marcus Massey, Veera W. Vilo, Vincent Tsang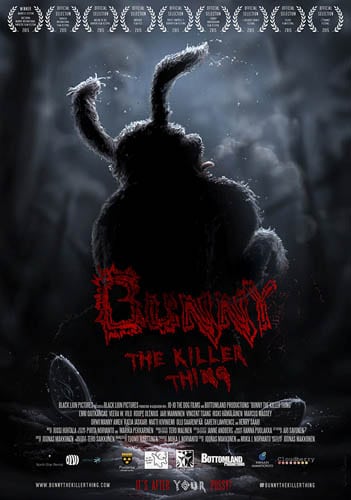 BUNNY THE KILLER THING (2015)
Directed by Joonas Makkonen
After being knocked unconscious and kidnapped upon entering his new home, a man is injected by a mad scientist but manages to escape his prison. Out in the woods, running away from armed guards, the man begins to transform into something else… a rabbit-human hybrid with an 18 inch long schlong and an appetite for pussy!
Elsewhere, a group of teenagers are partying at a woodland cabin but it isn't long before they come face-to-face with the rampant rabbit himself.
Where to start with comedy horror BUNNY THE KILLER THING? Imagine Donnie Darko's Frank the rabbit went on a sex rampage by swinging around an 18 inch long penis and knocking out his prey with a big cock slap around the face and occasionally screaming the word "Pussy!" at people. Sounds like a bad porn movie, right? Well, unfortunately as a horror movie it ain't that better. Whilst the idea and insaneness of it all has to be applauded and it has some downright daft, laugh-out-loud moments, it seems to be trading on its unique idea a bit too much with very little to fill out the gaps inbetween.
The movie essentially has three parts to it: the runaway rabbit-man, the tale of the Finnish drunk teens and a trio of suspicious Brits who are hiding something in the boot of their car. All three come together to form a slasher survival movie where the real threat is a giant phallus ready to do the business. As bunnyman, as I will call him, stands in the doorway with his old man in his hand, swinging it around at the base like some sort of party trick, you have to wonder what has life come to. Equally worrying is a young Finnish guy who thinks the height of fashion is wearing a t-shirt and boxing shorts sporting an outline of a vagina, a design which is a red flag to this horny bull of a bunny. Wanting to penetrate anything with a pussy, the bunnyman won't stop til he gets what he wants and it never seems as though he has his fill. Most of the time, however, he just seems to beat his victims to death but the odd occasion we do see that he makes true to his lusting threats.
The characters, apart from a small handful, aren't developed that well but as a slasher this can be easily overlooked as they're just fodder for the villain to poke. One character in particular though, called Nina, is insanely infatuated with her best friend Sara. Sara doesn't realise Nina's sexual feelings towards her and Nina's hatred when Sara cops off with British guy Vincent is too much to handle. Nina even takes out her frustration on a cute squirrel, one of many that suffers a grisly fate in this movie, so when the bunnyman comes a-calling, Nina is the first on our wishlist to meet a horrifying death.
BUNNY THE KILLER THING is definitely an interesting idea that will get tongues wagging but I feel it could have been a lot funnier with a better script and plot development, particularly when bunnyman is off-screen. It's outrageous though and doesn't take itself seriously which will win over horror fans who know what they're getting themselves into.
Just imagine if Bunny the Killer Thing ever met Cheech Marin's character at the Titty Twister…
Rating: