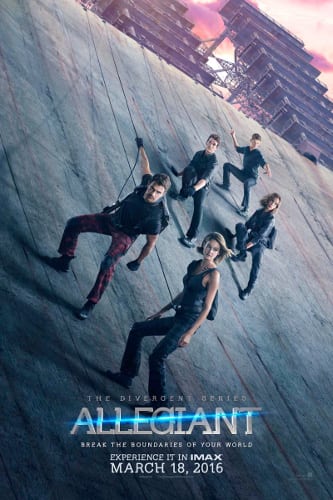 Though far, far better than the dreadful Twilight series, the Divergent films haven't been the box office smashes expected and each instalment had made far less money than the previous one. The films aren't great but they're not bad either, and it seems that Lionsgate giving the films mininal promotion, plus star Shailene Woodley not being the star that The Hunger Games's Jennifer Lawrence is or – at the time of Twilight – Kristen Stewart was –  has combined for film number three Allegiant to come out barely noticed. Unsurprisingly, Allegiant did quite poorly, bringing in just $29 million over its opening weekend in the US, with a $110 million budget, which is down 44% compared compared to previous instalment Insurgent [2015], which made $52.3 million last year, not to mention the first Divergent [2014] made $54.6 million on debut in 2014.
The Hollywood Reporter tells us that, in response to its box office failure, Ascendent, the final instalment of the series based on Veronica Roth's bestselling Young Adult novels, which is actually going to be part two of the last book, is having its budget cut considerably. I have no idea if the book contains lots of large scale sequences which will not now be able to be realised, but the film could suffer considerably now.
The Divergent Series: Ascendant is still being written and is due to start filming this summer, with a slated release date of June 2017.