High-Rise (2015)
Directed by: Ben Wheatley
Written by: Amy Jump, JG Ballard
Starring: Elisabeth Moss, James Purefoy, Jeremy Irons, Luke Evans, Sienna Miller, Tom Hiddleston

Certification: 15
Running Time: 118 mins
Reviewer: David Gillespie – HCF Official Artist and Reviewer
I don't think there would be any members of the Horror Cult Film's staff who wouldn't love Ben Wheatley just that little bit more having listened to his Q&A session after the Scottish premiere of his new opus, High-Rise. When asked what it was that inspired him to be a director, he answered, Alex Cox and the BBC2 programme, Moviedrome. For those not familiar with the series,  it spanned from 1987 to 1994 and had Cox introduce us to a variety of cult movie classics including Audition, Eraserhead, Videodrome  and The Man Who Fell to Earth. Films that we hadn't have the chance to watch on terrestrial television up until that point. The type of films that inspired everything that this website stands for.
Glasgow Film Theatre's Screen 1 at 8:20pm on Thursday 18th February was a sell out. Something that cannot be said of Wheatley's content in High-Rise. The director has lost none of his ability or desire to create visually striking, risk taking and seemingly non-commercial projects. This movie is no easy watch yet the two hours plus running time go flying by. He scoffed that his film had been likened to The Raid (2011) or Dredd (2012), only suggesting that they all involved a high rise block in peril. I would love to see what Wheatley would do with a big budget, blockbuster though. There seems to be something unflappable about his approach to films as if his final vision will never be compromised. Would it even be possible for him to make a film in this manner with the pressures of a big studio?
A young and well respected doctor, Robert Laing (Tom Hiddleston) moves to a modern, trendy and secluded tower block created by architect Anthony Royal (Jeremy Irons). Not long after his arrival he meets Charlotte (Sienna Miller), who serves as a bridge between the very noticeable class divide within the floors of the building. With an instant attraction and fascination towards Laing, Charlotte invites him to a party with the lower floor masses. He befriends the volatile Richard Wilder (Luke Evans), a renegade documentary filmmaker that has plans, by force if need be, to evenly distribute the privileges devoted to the upper levels. These privileges are all too noticeable when Laing is invited to the extravagant and pompous soirees of Royal and his cohorts. Soon the cracks in this potential oasis start to show. Lifts and access control systems don't work properly, the high-rise power and water system is repeatedly failing and the food in the in-built supermarket is out of date. Tensions and discontent between the classes is also reaching boiling point with anger turning to violence. With his own emotional problems to deal with, Laing has to decide where his loyalties lie and more importantly what he intends to do in dealing with the anarchy that is erupting around him.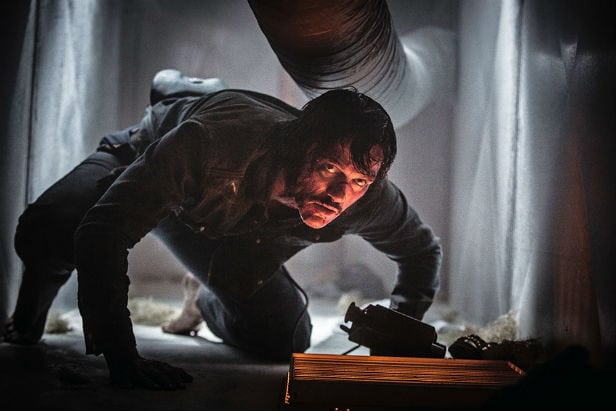 High-Rise is likely to divide audiences just as much as the characters within the story. There is nothing subtle about its class related metaphors (i.e. a rotten peach in the fruit section, the building's amenities failing just as relationships between the residents disintegrate also) or the touches of black comedy in Wheatley and Jump's vision. It is filmed and paced like a an independent movie and will likely alienate the popcorn guzzling masses who may expect a action based payoff as everything falls apart in the final third. The atmosphere is certainly more reminiscent of Cronenberg's horror, Shivers (1975) than Joon-Ho's wonderful, Snowpiercer (2013). Some may also be turned off by the comic violence and brutality . The opening scene has Laing dining on the leg of a neighbour's dog and by the end we have characters being raped, bludgeoned and violated.
Where the film excels is in the Mark Tildseley's production design, all retro- cool and solid cement pillars and Laurie Rose's sumptuous and beautiful cinematography. Clint Mansell's ambitious soundtrack is incredible too and will likely have Portishead marching proudly back into the charts with their melancholy version of Abba's SOS. Ironically the track features in the movie's most shocking and real image .
The performances are all first rate although those expecting Hiddleston's character to form some sort of resistance or leadership qualities when everything falls apart will be sorely disappointed. Although there is a love triangle between Charlotte, Wilder and himself, a confrontation is swiftly by-passed by Laing turning his attention to Wilder's pregnant wife (Elisabeth Moss). The only action that the doctor takes in the whole movie is to violently beat up a looter who foolishly decides to take a fancy to a pot of paint that he has acquired to personalize his living space. His flat becomes his priority rather than the high-rise. Luke Evan's as the brutish Wilder is great fun though. Dripping testosterone and intent on ripping apart flesh or concrete to make his point, this is undoubtedly the actor's finest role to date. Wheatley commented in his post interview that they visioned Wilder as a brutish version of Oliver Reed. There are also wonderful cameos from the likes of James Purefoy and Bill Paterson as the unhinged lords and barristers of the upper floors.
High-Rise is what we've come to expect from a director of the caliber of Wheatley. It is a hyperactive,  visually and orally stunning attack to senses. A fast moving cocktail of sex, drugs and violence in a flotation tank with animal parts as snacks. He never takes the easy route or hand feeds his audience the ingredients that they expect. Ben Wheatley will stir salt into their tea and sprinkle sugar on their chips. One day this will be regarded a classic although the director might have to wait for another 20 years to hear this. If you ask me I doubt Ben will give a damn.
Rating:
High-Rise Scottish premiere is part of the Glasgow Film Festival 2016 at GFT / Thu 18 (20.20) [Featuring Q&A with Ben Wheatley] & Fri 19 Feb (15.15)
Highlights of Ben Wheatley's post-interview at Thursday 18th February's screening. https://www.facebook.com/events/1698044660407709/1705571819654993/