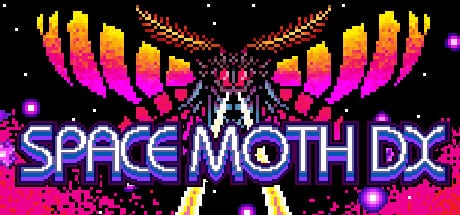 SPACE MOTH DX
Developed by 1CC Games
Published by Black Shell Media
Available for PC on Steam
Imagine an arcade game with similar mechanics to the legendary Space Invaders. Now, change your spaceship into a space moth that is able to fly around the screen and change the enemy aliens into rival insects. Welcome to Space Moth DX.
Space Moth DX is what I would imagine taking LSD would look like. A broad spectrum of bright neon-esque colours splattered across the screen in insect format with lasers, bombs and flames setting them alight as they thrust purple spheres at you. Oh, and there's explosions as well. With three keys for the three different types of weapons and then directional buttons on top of that, the controls couldn't be any simpler. Your task is to clear the way for your Space Moth whilst in turn not getting killed by those who wish to halt your escape.
As an arcade shoot em up, I find Space Moth DX an incredibly difficult game to master. It's so difficult to dodge the enemy insects and their purple output that even if I zig-zag across the screen in a bid to dodge and outmanoevre them, I still get hit. Rapid firing my arsenal of lasers and balls of flames, I hope to eradicate the gigantic and hordes of mini-insects that lay ahead of me but I soon fall victim to their vicious, unrelenting onslaught. The key to it all is timing. Move at the right time and you'll survive but misjudge it and you'll walk head on to a firey grave.
If you manage to navigate and destroy the insect henchmen blocking your path, you'll meet a boss who's much tougher and bigger than any of the other insects, naturally. The boss sections of a level are more like an endurance test as you must try to evade death and do as much damage as possible for a certain length of time to beat them and progress to the next level. Easier said than done! Fortunately the game allows you to continue from the last checkpoint when you die which does help greatly.
With its hypnotic visuals and funky, intense soundtrack, Space Moth DX is a game you can't help but like. It's not one to play hours on, instead better suited to short bursts of gameplay when you have a spare few minutes but trying to beat your score is rewarding especially when your brain is treated to such a visual euphoria.
I've played with controller but I find it's easier playing using the keyboard. You can remap the buttons to suit you which makes life much easier when playing the game. There's no achievements to unlock but there are Steam trading cards for those who like to collect.
If arcade games are your thing, then this is one trippy outing you might just want to check out.
Rating: