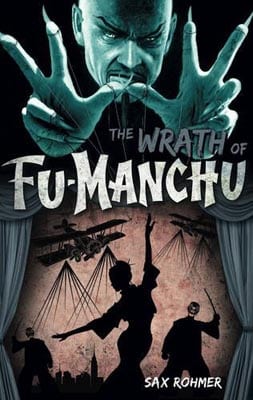 THE WRATH OF FU-MANCHU
by Sax Rohmer
Published on 4th March 2016 in paperback
THE WRATH OF FU-MANCHU is the final volume of the Fu-Manchu series by the late creator and author Sax Rohmer and contains writings that were published in magazines as well as unpublished manuscripts. The 294 page book features four stories starring Fu-Manchu along with a collection of other non-related short stories.
Leader of secret society Si-Fan, Dr Fu-Manchu is a gentleman's villain. Ever polite, even in his dastardly schemes, he always seems to be caught out like the villains in the Scooby-Doo series except it's usually because of that meddling Sir Denis Nayland Smith of Scotland Yard. Fu-Manchu always seems to have the edge over his opponent though and escapes unharmed, even when Nayland Smith has him in his grasp. When Fu-Manchu appears to be cornered, he'll often have some sort of leverage to use against Nayland Smith in order to secure his escape. Though Nayland Smith doesn't agree with what Fu-Manchu is doing and hopes to catch him, he is often forced into a position where he must trust Fu-Manchu and take him at his word. Likewise, the educated Fu-Manchu doesn't ever seem to deceive or break his promise when he extends an offer out to Nayland Smith which separates him from other villains we have seen throughout literature and other media.
Author Sax Rohmer seems to like his beautiful women as each of the Fu-Manchu short stories seem to feature them with the ladies often under the spell and thumb of Fu-Manchu, ordered to do his bidding or else face deadly consequences. Attractive ladies also seem to feature in Rohmer's other short stories that don't feature Fu-Manchu. It's these particular stories, rather than those starring the devilish doctor, that had me engrossed in the pages of the book. These short stories are mostly centred around the locations of England and Egypt where strange goings on occur or peculiar objects have been obtained with questionable histories. Many of the stories have a mysterious thriller element to them which will have you engrossed in the unwinding plot. The Fu-Manchu tales don't have the same effect and are quite boring in comparison despite Sax Rohmer being known mostly for his creation. I found myself skim reading the Fu-Manchu stories as the descriptions and overall tales seemed lacklustre and repetitive as though the same series of events were happening just in different locations whereas the enigmatic mystery thriller type tales seemed to build an intrigue for me, as the reader, to invest in and feel a need to solve or discover the ending.
Prior to this book, I didn't know much about Fu-Manchu and I can't say THE WRATH OF FU-MANCHU has made me a fan of the character nor the tales featuring him. I'm sure that when these stories were published that his villainous character would have been much more appreciated but, for me, the real star of the show are his tales of archaelogical digs in Egypt, strange visitors in the night, attacks by peculiar beings and objects that appear to cause sudden death. Despite the writings being rather old, they feel strangely modern. There's something refreshing about the use of the language, particularly in the tales set in Egypt, that it has managed to bridge the decades and not feel archaic though retaining that old-fashioned style.
With a splash of romance, damsels in distress and strong leading men, this collection of short stories certainly has its appeal though I feel it would be suited to more die-hard fans of Rohmers.
Rating: