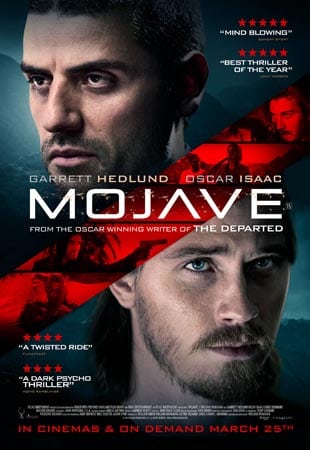 A brand new UK poster and trailer have been revealed for Mojave.
In this intense classical thriller, from an original screenplay by Oscar-winning writer William Monahan (The Departed), a violent artist, Thomas, (Garrett Hedlund, Tron: Legacy) has an ominous encounter in the desert with a homicidal, chameleon-like drifter, Jack, (Oscar Isaac, Star Wars The Force Awakens).
Jack follows Thomas back to his privileged L.A. home life, holding a dark secret over his head as he attempts to infiltrate and destroy his seemingly-perfect life. Thomas must come to terms with his own insecurities and self-doubt to protect himself and his family, and go head-to-head with his nemesis in a riveting two-man clash that plays out in exciting and unexpected ways.
Mojave also stars Mark Wahlberg (The Departed) and Walton Goggins (The Hateful Eight).
Signature Entertainment presents Mojave at Cinemas and On Demand from 25th March 2016