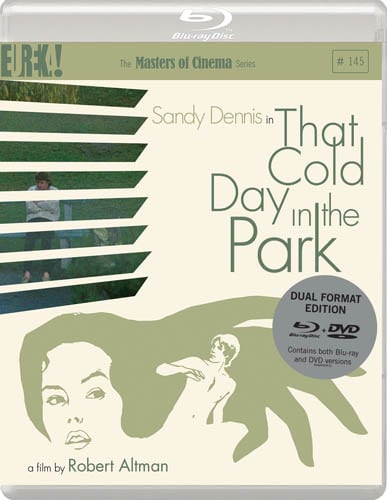 Eureka Entertainment to release THAT COLD DAY IN THE PARK, Robert Altman's 1969 psychological gothic thriller, for the first time ever in the UK in a Dual Format edition as part of the Masters of Cinema Series on 20th June 2016.
Just prior to his career breakthrough M*A*S*H, Robert Altman made this memorably unsettling psychological thriller, which originally premiered at the Cannes Film Festival.
Frances Austen, a young, wealthy spinster, invites a mute teenager into her apartment after finding him freezing in the park next to where she lives. Despite her best efforts, their lack of communication only increases her sense of loneliness, as her possessiveness spirals into frightening new realms.
A remarkable central performance by Sandy Dennis anchors this fascinating, haunting tale, anticipating Altman's subsequent studies of female psychological breakdown, Images and 3 Women. Shot by László Kovács (Easy Rider, Five Easy Pieces) with Altman's trademark long lenses and drifting zooms, as well as intriguing experimentation with sound, That Cold Day in the Park is a long-neglected gem from an American master.   The Masters of Cinema Series is proud to present its UK home video premiere in a new Dual-Format edition.
SPECIAL FEATURES:
New high-definition master
Uncompressed audio on the Blu-ray
New video interview with critic and filmmaker David Thompson, editor of Altman on Altman 
English subtitles for the deaf and hearing-impaired
PLUS: A booklet featuring new writing and archival images