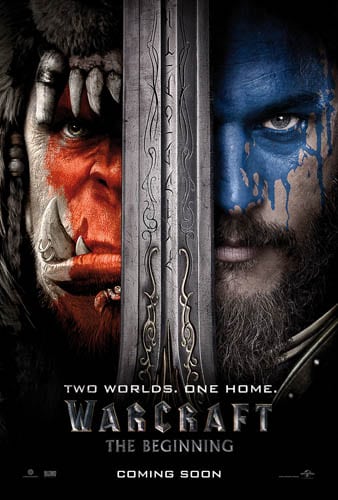 There doesn't seem to be much buzz about Warcraft, which could possibly end up like Jupiter Ascending or John Carter; movies which I personally enjoyed and which do have their fans but which just didn't interest the majority of the paying public and flopped hard. Warcraft just looks like The Lord Of The Rings remixed, with the twist that good and evil aren't so clearly defined, where both sides truly feel they're in the right. I want to be more excited about it then I am, though it'll be a change from all those bloody superheroes. The film's new action packed trailer differs a bit from previous ones because it's told from the point of view of the human characters, who suddenly find their villages being raided by Orcs. Is it me or does much of the CGI look really poor?
Synopsis: The peaceful realm of Azeroth stands on the brink of war as its civilization faces a fearsome race of invaders: orc warriors fleeing their dying home to colonize another. As a portal opens to connect the two worlds, one army faces destruction and the other faces extinction. From opposing sides, two heroes are set on a collision course that will decide the fate of their family, their people, and their home.
Warcraft is directed by Duncan Jones, is written by Jones, Charles Leavitt and Chris Metzen, and stars Travis Fimmel, Paula Patton, Ben Foster, Clancy Brown and Dominic Cooper. It's out June 10th.