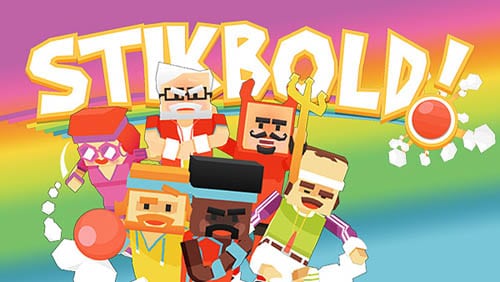 Game Swing – Curve Digital – Out now on PS4, Steam and Xbox One – 1-4 Players
It's here, the Scandinavian dodgeball game you didn't realise you were waiting for. It's a bizarre road trip featuring a dodgeball team, out to save their rivals from Satan. Yes, the antichrist has kidnapped a dodgeball team on the day of the championship and it's down to our funky looking hero's to save the day. Taking on hippies, bikers, sea captains and more hippies the only way you know how. With mad dodgeball skills.
Forget what you already know about the internationally renowned sport, as Stikbold brings its own rules to the table. Story mode takes you through many rounds of dodgeball with varying opponents, in varying situations. Hot on the trail of Satan, you engage in many games of dodgeball, with the first team to three points being the winners. In order to win you have to hit your opponent with your balls until they're ko'd. When all adversaries are down you win the round. These matches take you from a gymnasium to parks, beaches, oil rigs and even the underworld itself.
Visually, it's a hi-res version of Minecraft, everything is blocky but much more detailed, and has an overall bright presentation. It's got some funky music and as I'm not multilingual, the dialogue is either of Scandinavian origin, or some form of Simlish, but with English subs via speech bubble. This adds another layer of kooky charm to the already silly fun of the game. Gameplay wise, it has a steep learning curve, as things start off pretty casual and straight-forward but the intensity ramps up after a few levels and games become much more evenly matched. Although Stikbold can be enjoyed as a solo experience, there's a multiplayer emphasis, too. The main campaign can be played through with a second player in tow which can cause extra chaos. There's also a multiplayer free for all mode which allows up to four players to compete against each other, which makes for some great local multiplayer fun.
On the surface, Stikbold is a silly, bright and imaginative game, which provides some amusing entertainment, but after a few stages it does become a little repetitive, although a change in environments and playing style does try and keep things fresh. It's not the longest of games either, with it only taking a couple of hours to complete story mode, however the local multiplayer does give the game some extra legs, as well being tasked with optional challenges on each of the story mode stages. As fun as the game is, there's not a great deal to stick around for other than the multiplayer, which is chaotic fun but lacks any depth.
Rating: