The Sign of Four (1983)
Directed by: Desmond Davis
Written by: Arthur Conan Doyle, Charles Edward Pogue
Starring: Cherie Lunghi, David Healy, Ian Richardson, Thorley Walters

UK
ON BLU-RAY, DVD, download and on-demand: 25TH APRIL, from SECOND SIGHT
RUNNING TIME: 97 min
REVIEWED BY: Dr Lenera, Official HCF Critic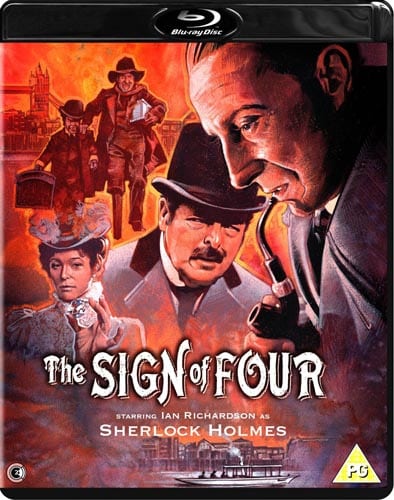 Major John Sholto tells his two sons of a treasure which was found many years ago by himself, Captain David Morstan, the one-legged Jonathan Small and three other inmates of a prison which he commanded. The jewels were located on the promise that the fortune will be shared when they were released, but Sholto fled with the jewels and then killed Morstan when he turned up. Now, racked with guilt, Sholto decides that Morstan's daughter Mary must have her share, but then dies of fright at the sight of Small, who wants the treasure for himself and will stop at nothing to get it. When Mary anonymously receives The Grand Mogul and is asked to meet somebody at a certain location, she enlists the aid of Sherlock Holmes and Dr. John Watson….
It could have been very different. Instead of the world-famous Jeremy Brett-starring Sherlock Holmes TV series, we could have had another one starring Ian Richardson. Second Sight's release of Richardson's two Holmes efforts, efforts which are almost obscure by comparison to Granada's great [well, at least the first half or so of it] series, reveals an interesting case of 'what might have been'. The approach taken by them is less bound by the [entirely commendable] need to stick closely to Arthur Conan Doyle's texts, and slightly plays up the thrill side of things. Some purists may find a lot to annoy, so much so that it's possible that this would be more enjoyed by more casual fans of the character [which I guess I am], but don't think about Doyle too much and you should have a fair bit of fun. The first to be shot, The Sign Of Four, is the more flawed of the two, largely because of the odd way it re-arranges a story which originally had Holmes, and the reader, gradually piece a mystery together, and concluded with a lengthy flashback which revealed all. This adaptation tell us much of what is going on right from the beginning, allowing us to watch the villains at work and making Holmes' exciting deductions seem anti-climactic. This offering though does interestingly look forward to the Guy Ritchie Holmes films with their more action-orientated approach, and it also offers a nice interpretation of the World's Greatest Detective that may become one of my favourites.
In 1982, American producer Sy Weintraub partnered with English producer Otto Plaschkes to produce 30 Holmes films for TV, cable, video and even theatrical release. Films of The Sign Of Four, The Hound Of The Baskervilles and The Prince Of Crime, which would adapt the stories featuring Holmes's arch enemy Professor Moriarty, were all scripted by Charles Edward Pogue, who added an extra murder, a couple of action beats and a fairground climax to Doyle's story The Sign Of The Four, and this one was shot first, at Shepperton Studios and on location in London. Weintraub went through much trouble and spent much money to get the rights to the Holmes tales, not knowing that the copyright was soon to expire in the UK and that Granada were about to commence their own series starring Jeremy Brett. When word got out, he, assisted by Doyle's daughter and the Doyle estate trustee Jean Conan Doyle, sued Granada for copyright infringement and unfair competition, and insisted that the Granada series, if it went ahead, was not to be shown in the US. Eventually there was an out of court settlement for a large sum of money which was enough for Weintraub to cover his costs on both The Sign of Four and The Hound of the Baskervilles, which had just wrapped, and make a profit, too. His two Holmes movies were shown at Cannes but got a low key release, creeping out on video in the UK and going straight to cable in the US.
The opening titles are rather 'trippy' and provide an odd ambience with their depiction of bits from the film we are about to see [perhaps too many] with colour filters and the screen divided up much like a diamond, though the music theme is pleasantly jaunty and upbeat. Then we get a decent opening scene full of Gothic atmosphere and menace, as Small appears to Sholto and tells him, and us, rather too much exposition before Sholto is literally frightened to death. This adaptation, despite its 'PG' rating, slightly plays up the horror elements of its story, in particular with its depiction of Tonga, Small's Andaman Island midget aide who here is not just a killer with a blowpipe but is also bestial and eats raw meat. PC types be warned – the racially insulting representation of the character is compounded by him being played by a white actor in makeup, something that is obvious in some shots where you can see where the makeup is heavier. Smoke pours out of 221B Baker Street in our terrific first introduction to Holmes [actually borrowed from The Private Life Of Sherlock Holmes], happily engaged in researching tobacco ash while he waits for his next case, which of course comes along the next minute. "What a very attractive young woman," Watson says to Holmes as Mary leaves their quarters after she met the two and pleaded for their help. In the stories, he finds her so attractive that she eventually becomes Mrs. John Watson. "Is she?" Holmes replies. "I didn't observe."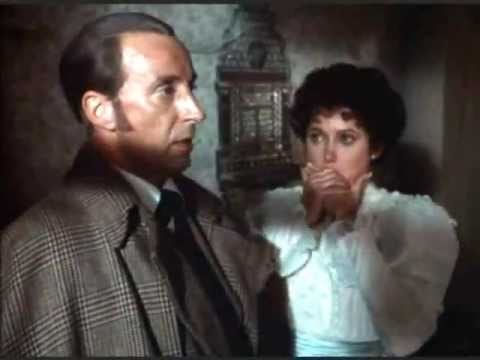 What with so much background delivered to us in the first half – Holmes literally wraps up nearly everything around half way through – not to mention much cutting to the two villains going about their business, it's quite a while before Holmes and Watson seriously begin to investigate matters. Probably because there aren't any more dramatic revelations to reveal, Pogue gives us, as well as the book's Thames boat chase which is a bit unconvincing here and isn't as exciting as it should be [it certainly falls far short of the comparative scene in the Granada version of this tale], several extra encounters between heroes and villains including Holmes battling Tonga and a pointless but fun excursion into a fairground which at one point goes into a hall of mirrors. I had no problem with these scenes into which Robert Downey Jnr. and Jude Law would fit very nicely, but I just wish that they'd kept more of the mystery back to make the final section even more exciting. At least Holmes still has some moments where he surprises us – perhaps his most impressive moment is when he's journeying in a hooded hansom cab and identifies his exact location throughout a day's travel.
There are the usual chuckles that can result from the complete superiority of Holmes's mind compared to anybody else's, much of them concerning the slow witted Inspector Layton. It's quite obvious that he was called Lestrade when the movie was filmed, but the name "Layton" was later clumsily overdubbed, for some reason. In the story, it's actually not the more common Lestrade but a man called Athelny Jones who is the dumb [well, he's not dumb really, just seems that way compared to Holmes]. Director Desmond Davis handles the proceedings well enough so that there's some considerable suspense at times, but he slightly fumbles a few of the most supposedly exciting bits [though the filming schedule probably meant that they had to be rushed somewhat] and resorts to things like awkward slow motion at times, and did we really need Psycho's stabbing strings during a couple of murder scenes from composer Harry Rabinowitz? There's a decent amount of that Victorian atmosphere and good production values all round though even if it can't quite overcome that televisual look and they've seriously overdone the fog – it's swirling around in nearly every outdoor scene!
Richardson's Holmes, who at one point introduces himself 007-style as "Holmes, Sherlock Holmes", is a joy to watch, if at times very theatrical [but so was Brett]. This Holmes doesn't seem to have much darkness and seems quite a nice, even jolly, chap. Most Holmes's would have uttered barbed comments, but this one just buries his face in his hands when dealing with Layton and seems more amused than annoyed. It's quite an unusual interpretation but works very well, and Richardson is convincing as a man of action too. The same can't be said for David Healey's Watson who is just plain bland [and seems to have a slight Irish accent despite the actor being Australian/American] and just seems to 'hero worship' Holmes without putting his own stamp on the character. This is also means that there's little chemistry between the two actors. Meanwhile Cherie Lunghi's heroine is given to things like standing helpless in a room, doing nothing while Holmes is in peril. Overall though this is a fairly decent Holmes adventure which can't quite overcome the major flaw in its rather misguided reorganising of its story, but which contains just about enough pleasures to compensate.
Rating:
Bonus feature: Audio commentary by renowned Holmes expert David Stuart Davies
My review of The Hound Of The Baskervilles will be up tomorrow!