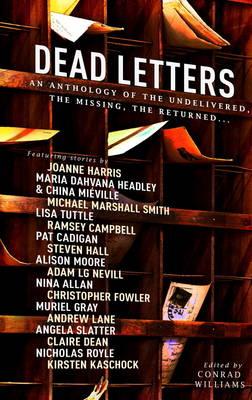 In 2015 eighteen of the biggest, brightest and most brilliant minds in horror and speculative fiction received a redirected letter via The Dead Letter Office from a person or persons unknown. In each one they found a different artefact and the same challenge: write.
Publishing to mark the Royal Mail's 500th anniversary in 2016, Dead Letters features new stories from the masters of horror, fantasy and speculative fiction, each inspired by an inhabitant of the Dead Letters Office, including tales from Joanne Harris, China Miéville & Maria Dahvana Headley, Adam LG Nevill, Michael Marshall Smith and many more. Drawing inspiration directly from the contents of their dead letters each story is a chilling tale of the undelivered, the missing and the returned, all masterfully brought together into one stunning collection by award–? winning horror author and editor Conrad Williams.
Conrad Williams has written seven novels, four novellas and a short story collection. One won the August Derleth award for Best Novel in 2010, while The Unblemished won the International Horror Guild Award for Best Novel in 2007 (he beat the shortlisted Stephen King on both occasions). He won the British Fantasy Award for Best Newcomer in 1993, and another British Fantasy Award for Best Novella (The Scalding Rooms) in 2008. He lives in Manchester, UK.
DEAD LETTERS will be published by Titan Books on 22nd April 2016 in paperback and ebook format.