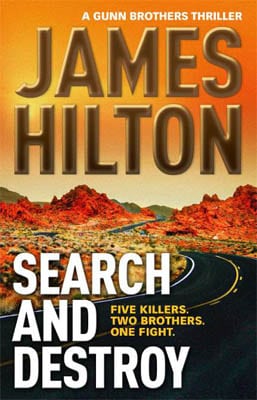 Titan Books will be publishing Search and Destroy by James Hilton in paperback and ebook format on 14th June 2016.
In the model of Lee Child, Matt Hilton and James Patterson comes a high-octane take on the classic American thriller.
Brothers Danny and Clay Gunn were brought up an ocean apart, but blood will out. Both served in the military, and both know how to kill. A skill they put to use taking work as private military contractors and freelance 'fixers'.
But when they save a young journalist in the Nevada desert, it is they who become the targets, stalked by a paramilitary team known only as "The
Presidents," under orders from the heart of government.
To stay alive they must turn the tables, stop running, and become hunters once again…
Brother of acclaimed thriller author Matt Hilton, James Hilton is the newest addition to the Hilton crime-writing dynasty. A Fourth Dan Blackbelt in
Shotokan Karate and a trained martial arts instructor, he is the author of several popular Kindle-release titles and short stories. Search and Destroy is his debut crime novel and the start of a gripping new series from an exciting, emerging voice in the crime scene. He is based in Carlisle in the UK.