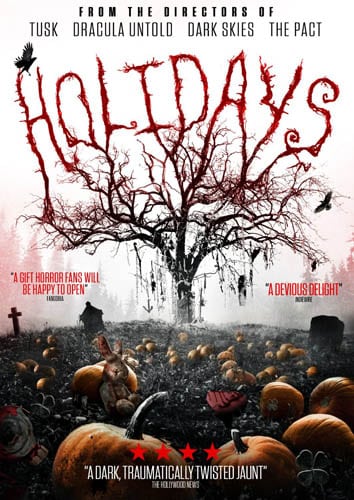 With Hollywood and horror favourites on board, Holidays is a portmanteau horror which challenges our perception of annual festivities, subverting them and laying their darker side bare.
From a seriously bloody Valentine to an extremely gruesome Easter and a Christmas slay ride for good measure, Holidays is an anthology horror that puts a grisly twist on some of our most beloved seasonal events.
Writers & directors include Kevin Smith (Tusk, Jay And Silent Bob Strike Back), Scott Stewart (Priest), Adam Egypt Mortimer (Some Kind of Hate), Dennis Widmyer (Absence), Kevin Kolsch (Starry Eyes), Nicholas McCarthy (The Pact), Gary Shore (Dracula Untold) and Sarah Adina Smith (The Midnight Swim).
HOLIDAYS will release in UK on download 15th July and on DVD 10th October 2016!