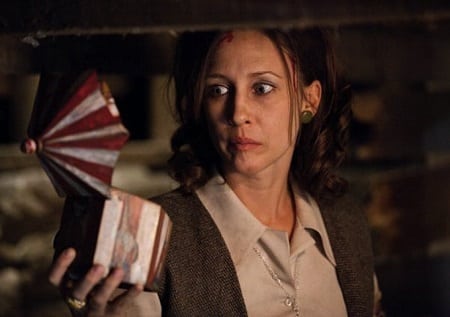 After the much critical success of the original film and now its sequel, horror has a new franchise in the shape of The Conjuring and while its not been officially confirmed by the studio, we do expect a third film to come in the near future.
Horror fans can't seem to get enough of the tales about Ed and Lorraine Warren, whose "true life" encounters with the paranormal have brought chills and scares to cinemagoer's, thanks to superb acting and the directing skills of James Wan.
Wan himself has already suggested plans are afoot for a third story and that the recent films have planted some clues into what direction it can go – with the Amityville story all but ruled out- but when asked about Werewolves, based on Ed's personal experience book which was published in 1991, Wan was onboard with that idea!
"Maybe we can go and do it like a classic American Werewolf in London style. That would be awesome! The Warrens set against the backdrop of The Hound of Baskerville. That would be awesome."
"They have a lot of cases. I'm not sitting there sifting through every single one, but I think, you know, between the writers and the studio, I think they have a short list of their favorite, like basically the top 20 or 30 of the Warren's favorite cases."
How cool would it be though if the Werewolf genre was used and it would move the franchise into a total different direction.   Of course all plans for the Conjuring 3 have to put on hold as Wan is entering into the world of DC and putting his attentions into Aquaman, but make no mistake about it, the box office figures and critical success has no doubt made The Conjuring one of the most profitable horror franchises around at the moment.