Casino Royale (1967)
Directed by: John Huston, Joseph McGrath, Ken Hughes, Richard Talmadge, Robert Parrish
Written by: Ian Fleming, John Law, Michael Sayers, Wolf Mankowitz
Starring: David Niven, Peter Sellers, Ursula Andress, Woody Allen

UK/USA
AVAILABLE ON BLU-RAY AND DVD
RUNNING TIME: 130 min
REVIEWED BY: Dr Lenera, Official HCF Critic
M and other spy chiefs implore the legendary spy Sir James Bond 007 to come out of retirement to deal with SMERSH who have been eliminating agents. When Bond spurns all their pleas, his mansion is destroyed by a mortar attack at the orders of M, who is killed in the explosion. Bond travels to Scotland to return M's remains to the grieving widow, Lady Fiona McTarry, and foils a SMERSH plot to discredit Bond by destroying his "celibate image". Bond is promoted to the head of MI6 and orders that all remaining MI6 agents will be named "James Bond 007", to confuse SMERSH. He then hires Vesper Lynd, a retired agent turned millionaire, to recruit baccarat expert Evelyn Tremble, whom he intends to use to beat SMERSH agent Le Chiffre. Having embezzled SMERSH's money, Le Chiffre is desperate for money to cover up his theft before he is executed….
Trying to summarise the first third of this Casino Royale was a difficult task because its plot is almost incoherent. The whole film is certifiably nuts. It attempts to spoof something that, in a way, was virtually a spoof in itself, by throwing in everything but the kitchen sink, from gags to cameo appearances for the sake of a good show. It's self indulgent, sometimes baffling, and very disorganised, but it's also highly inventive, has some astonishing set design which helps it to become almost [probably unintentionally] psychedelic in nature [it's possible the film may make some sense if you're on some kind of hallucinogenic] , sometimes genuinely funny [with so many attempts at getting laughs, some are bound to work] and even witty [though of course much of it is just good old slapstick] and a great snapshot of the Swinging Sixties. It's easy to understand why many 007 fans hate it, because only occasionally does it work as a James Bond film, though it does sometimes mock the official series very well. While some sections and scenes just don't really work, overall I always have a good time watching this film, and, to be honest, it's amazing how much of it is good, as it had one of the most tortuous, chaotic productions ever.
Producer Charles K. Feldman bought the rights to the book in 1960 and Ben Hecht wrote three drafts, but could not come to terms with Albert R. Broccoli and Harry Saltzman, nor get Sean Connery, so they opted to make a Bond comedy. Wolf Mankowitz, John Law and Michael Sayers are credited with the screenplay, but it was worked on by many others and constantly changed during filming so cast members didn't know what they were doing from one day to the next. Five directors – Ken Hughes, John Huston, Joseph McGrath, Robert Parrish and Val Guest – shot different segments which Guest had to try to link together. Fiilming was at Pinewood Studios, Shepperton Studios and Twickenham Studios, as well as various London locales, Mereworth Castle in Kent, and Killin in Perthshire, though Huston refused to go on location for the Scottish scenes so the grouse shooting scene was done in County Meath, Ireland with stuffed grouse on wires. Peter Sellers and Orson Welles hated each other and would not share their scene so they had to be shot separately. Sellers caused immense trouble, firing McGrath, ordering sets be torn down and rebuilt, going on long absences and eventually being fired himself before most of his scenes were finished, which required removal of much footage. Cinematographer Jack Gwillin also held things up by using arclights [lamps that produce light by generating an electric arc across an enclosed gas] which caused sets to be extremely hot and sometimes only a few minutes of footage being able to be shot on a single day. The $6 million budget eventually ran to $12 million, making it one of the most expensive films to that date, but it was, amazingly, a huge hit, if slated by the critics.
The brief pre-credits scene, which is actually a flash forward, of a French policeman with a Scottish accent showing his credentials to a Mr Bond, is very poor. However, the title sequence of scenes from the film occurring in the spaces in animated letters while trumpets in the letters move in time to the title music, which isn't a song but a highly catchy, upbeat affair, makes up for it. The early scenes, despite much silliness, do present the rather interesting concept of a retired James Bond trying to live a peaceful life but forced back into action, though this Bond isn't really the one we're familiar with; he's more refined and hates "that sexual acrobat who leaves a trail of beautiful dead women like blown roses behind him". He even mocks the visitors to his home for their ridiculous gadgets [the film is really good at spoofing this element of Bondery, with a brilliant G-branch mockery scene]. There's a rather painful reference to Born Free during a drive past lions – though that kind of thing wasn't too common back then – and a hilarious gag with a toupee which is all that's left of 'M' ["Should it be given a Christian burial? Just how personal is a toupee"?], but the Scottish section that follows just drags and the laughs tend to be just too peculiar to really come off, like a wrestling match that actually involves trying to throw cannon balls at each other.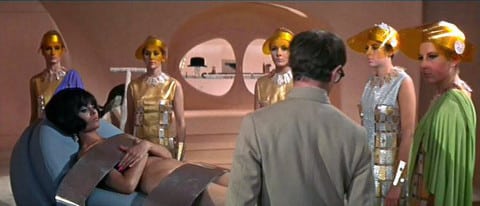 In fact, this Casino Royale only really takes off when Sellers and Ursula Andress show up. The section of Vesper seducing Tremble works really well, the combination of the staging, set design and Dusty Springfield singing the truly beautiful song The Look Of Love combining to create a genuinely seductive, sexy mood despite the goofy bits. There's a truly gorgeous shot of Vesper [Andress never having looked more stunning] moving in slow motion on a bed surrounded by mirrors with feathers going all over the place. I think we're still supposed to be in England, but we are soon off to India [cue irrelevant but impressive dance number] as Bond goes to recruit the long-lost daughter he had with Mata Hari [if you haven't seen this film, I'm not making any of this up] for a mission beside the Berlin Wall. We do eventually get some material from the novel with a baccarat game with Le Chiffre which is quite well done despite Orson Welles's suggesting that Le Chiffre perform some magic, and even a torture scene, though this time it's torture of the mind with some quite trippy imagery. SMERSH are seen to have a SPECTRE-like underground base [plus a flying saucer], we meet the villainous Dr. Noah, whose has already replaced some world leaders with doubles and wants to make all women beautiful and kill all men under 4 ft 6. The climax even throws in cowboys and Indians, and there's some great stunt work amidst all the comic mayhem, but then the thing suddenly ends un-satisfyingly.
The way the film jumps from Tremble getting in a car to follow the folks who have kidnapped Vesper [great gag here involving Stirling Moss here, who is asked to "follow that car" and goes after it on foot] to Tremble waking up in a chair about to be tortured makes it obvious that this section wasn't finished, though the daft storyline would actually make slightly more sense with some re-editing, as the whole bit about Tremble being recruited to play baccarat to have been edited into the wrong place. This plot line doesn't pick up till much later when Le Chiffre says that he'll get the money he needs through baccarat. Despite some early slow stretches, this Casino Royale does have plenty of action, but it's nearly all slapstick stuff, though an early car/milk van chase may have been quite exciting without the comic music played over it. A section where male agents to ignore the charms of women totally rather flat, and the way women are constantly paraded around as sex objects may be appealing in a certain way to this male critic but becomes a bit uncomfortable [and I'm no lover of political correctness], while we almost expect stereotypical gay characters if they appear, but do we really need not one but two jokes about incest? The variety of laughs is quite wide though and if one doesn't work the next one sure does! The sets are also impressive and sometimes quite startling, like the inside of a German spy school which is straight out of The Cabinet Of Dr. Caligari with its jagged design and twisted scenery.
Niven does his usual English gentleman act, Woody Allen already has his insecure screen persona developed, and Sellers is basically playing Inspector Clouseau. The enormous cast, which includes Ronnie Corbett [very funny as a Russian kept alive by an elaborate pace maker], Bernard Cribbins, William Holden. George Raft [doing his coin trick], John Huston, Barbara Bouchet as Miss Moneypenny's daughter, and Dave Prowse as the Frankenstein Monster [a role he would later play twice for Hammer], even includes lots of folk who appeared in the Eon series like Vladek Shaybal, Burt Kwouk, Caroline Munro and Angela Scoular. The Burt Bacharach soundtrack, which is very poppy, quite whimsical and even comical [though there are a few sinister passages like in the German spy school, but they aren't numerous] wouldn't fit in a proper Bond movie but it's fine in this one and has quite a lot of different themes. A vocal version of the main title theme is heard during the end credits, while the same singer Mike Redway, who sounds like Noel Coward, also performs a weird little song during a dream scene. It's truly a fine score and one of this Casino Royale's strongest attributes. The film itself has a lot going for it, even if it's something of a misbegotten exercise and I can't rate it quite as highly as I want to. In fact, I think with some re-editing throughout, it would work a lot better. I can't help but like it this total and utter mess of a movie as it stands though. There are nuggets throughout and muxh effort was put into certain areas like the production design. And it may not be Bond….or not very much….but is it that much further from Ian Fleming's world than the official series would sometimes get?
Rating: