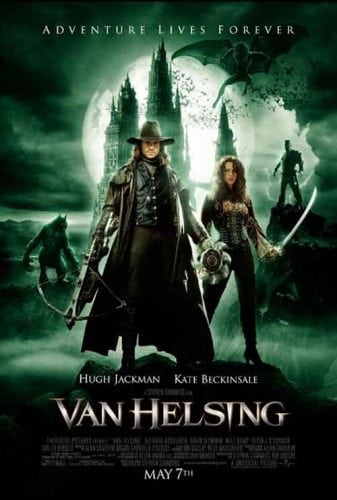 Despite the mixed and often poor reception they get, and that they don't always do well at the box office either, the remakes keep on coming, though this one is part of a whole series, or rather universe, of remakes. It's been mentioned before that the Universal Classic Monster Universe may get a new Van Helsing movie, and we all wondered if the studio might want to include the iconic vampire hunter [probably best known in the form of Peter Cushing] out of Bram Stoker's Dracula novel, so it's no surprise that a reboot of Stephen Sommer's under-performing and much criticised, though in my view highly entertaining, 2004 picture has now been confirmed. Screenwriter Eric Heisserer told HitFix that:
"I can only say that early on, our inspiration for Van Helsing's behavior and his mannerisms was all in Mad Max".
He doesn't say any more, but it seems that the tongue in cheek, swashbuckling vibe of the Sommers film won't return, and that, once again, a remake is going to go down the 'dark and moody' route, which is getting increasingly tiresome in my view….though Heisserer goes on to say this about the films:
"One may be a little bit more comedic, action-adventure-y, one can be very much a traditional horror piece. And then we'll see what happens as the projects evolve and we all get a chance to convene and talk, and make sure the movies feel like they're all in the same world."
Could work I suppose….as a fan of these characters I want these films to be good and successful but I have my doubts….