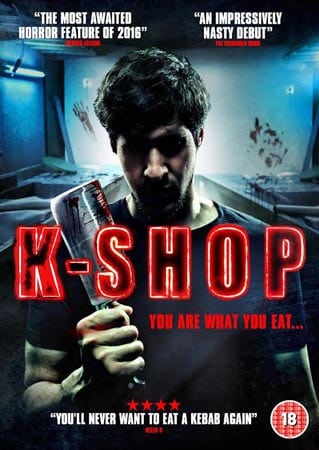 Love to get bladdered at the weekend? You might wanna rethink your night out…
To celebrate the release of British horror K-SHOP we have an exclusive teaser for the film. Check it out below!
Bloody vengeance comes to the streets of a British seaside town in this darkly comic horror, which sees a young student turn vigilante on the drunken thugs who caused the death of his kebab shop-owner father.
A tense and gruesome thrill-ride, K-Shop delivers a cutting social commentary about the sordid side of British nightlife – with a side order of stomach-churning black humour.
After his father is killed in an altercation with drunken thugs, Salah's world is plunged into darkness. Forced into running the family kebab shop alone, Salah struggles to manage the increasingly rowdy night life and when a fight with an angry customer goes fatally wrong, he finds himself with a dead body on his hands. With no faith in the authorities Salah disposes of the body in the one place he knows best… the kebabs. As the shop's gullible customers devour the new recipe, Salah develops a taste for the kill and seizes the opportunity to turn vigilante and seek revenge on the abusive drunkards plaguing the streets.