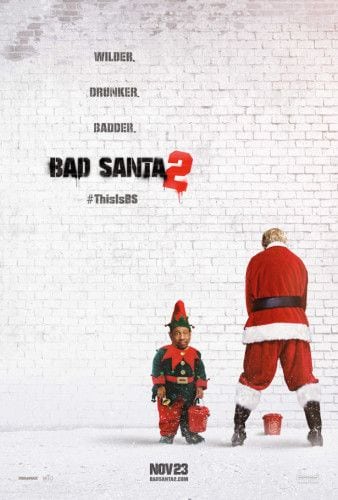 The original Bad Santa surprised me; it was crude and rude but also very funny and just a little bit sweet. A fine Christmas movie! And a sequel is coming. Said Billy Bob Thornton recently:
"I think we pushed it even a little further this time, not only in the sort of dark humor, but also in the emotion. This one has more of a heart, more of a story you would say, but it also went a little further with some of the nasty stuff."
Which sounds good to me, and this first trailer should produce a few chuckles.
SYNOPSIS:
Fueled by cheap whiskey, greed and hatred, Willie teams up once again with his angry little sidekick, Marcus, to knock off a Chicago charity on Christmas Eve. Mommy issues arise when the pair are joined by Willie's horror story of a mother, Sunny Soke, who raises the bar for the gang's ambitions, while somehow lowering the standards of criminal behavior. Willie is further burdened by lusting after the curvaceous and prim Diane, the charity director with a heart of gold and libido of steel.
Bad Santa 2 is directed by Mark Waters [Mean Girls, Mr. Popper's Penguins], written by Shauna Cross, Doug Ellin, John Phillips and Johnny Rosenthal, and stars Billy Bob Thornton, Kathy Bates, Tony Cox and Christina Hendricks. It's out on November 23rd.