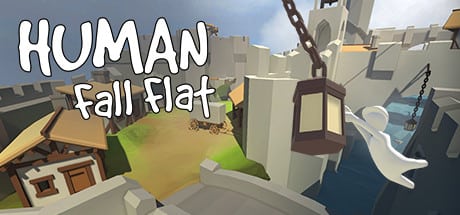 HUMAN: FALL FLAT
Available on Steam for Windows, Mac and Linux
In HUMAN: FALL FLAT, you play a nameless human-type character who has limited capabilities and appears to had one too many down the pub the night before. With the ability to jump and grab things with both hands, you have to solve the puzzles to get from point A to point B. It all sounds quite simple but the handling physics of your character mimics that of Surgeon Simulator and so the battle that ensues is actually getting your wobbly character, who's stumbling all over the place, to do what you desire.
Having tried both keyboard/mouse and Xbox 360 Controller for Windows, I feel as though the controller is much easier to use and get the desired result from your character. However, even then it's a struggle to do the most simplist of tasks, particularly climbing. Some may find this game quite charming and rewarding for perserverance but as a gamer with limited time on my hands, such gaming physics only proves to infuriate me rather than aid my enjoyment. What makes matters worse is that the constant bob of the camera when I fail to get my character to climb up an object, such as a train carriage, gives me a slight motion sickness feeling which ultimately hampers my playtime.
The little white guy who's the star of the show isn't that inspiring to look at, particularly when the scenery is predominantly the same colour. If you fancy a change from your bland white character, you can modify his appearance in the settings menu where you can colour him in or even use your webcam to cast a photo of your face onto that of the character. I tried to add a splash of colour to my little chap but then struggled to save the settings and go back to the main game. Other people seem to have successfully done this so it's more than likely I'm missing out a step to save the settings though I do believe it should be made much clearer.
What I do like about the game is its simple design and aesthetic. It's quite modern with clean lines and basic objects incorporated to form part of the puzzle. The game feels quite spacious and not hemmed in which allows you to take your time in completing the task at hand. In my case, a century is needed!
Whether you find physics-based games frustrating or not will determine whether HUMAN: FALL FLAT is right for you. Personally, they're not my favourite due to my inept abilities and whilst this is no-where near the difficulty of Surgeon Simulator in terms of handling, it is still quite challenging to get right. For me, this struggle overshadows the puzzle aspect of the game and therefore this isn't a game I'm likely to pursue much further unless my ability to control the character improves.
Save