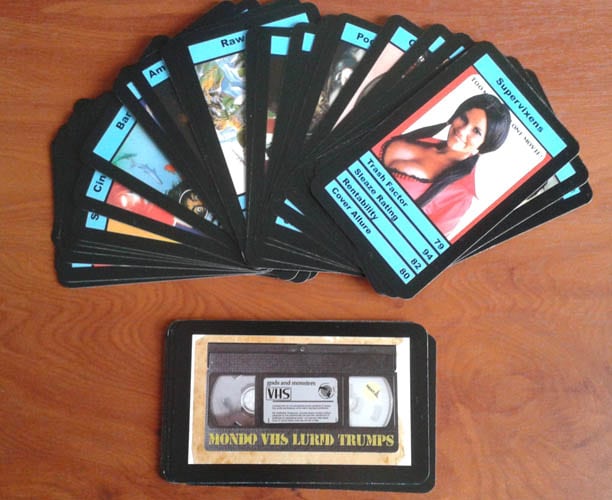 If you grew up pre-millennium, then you'll appreciate how important boardgames and card games were on an afternoon, particularly a wet Sunday one like we're having this August. Physical games like these brought out the competitive edge in us as well as tears, laughter and tantrums. Even years later, playing as an adult, these type of games prove all the more exciting as throwing insults and issuing forfeits are often introduced during gameplay. Of course, nowadays, many people have their head stuck into a screen to get their dose of entertainment. In fact, you're probably doing so right now to read this review! I'm guilty of it too as an avid videogamer but nothing digital quite matches the joy a good game of cards or a boardgame can bring.
For you genre fans out there who prefer an interactive experience with a fellow human over searching for imaginary creatures on your mobile phone, then we have the perfect suggestion for you: Mondo VHS Lurid Trumps from Gods and Monsters.
Have you heard of a card game called Top Trumps? Good. Wait… you haven't? Then let me explain. Cards are shuffled and dealt out equally to two or more players. Each player must turn over their top card, making sure not to show anyone else, and one player will begin by reading out one of the four categories listed on their card. Each card features the same four categories but the corresponding stat score will be different. The player naming the category for the rest of the group wants to ensure they have the highest score so it's in their best interest to read out the category on their card which features a high score. All other players must then read out their category score for their top card and the player who has the highest score for that category wins all the other players' top card. Then the winner of that round gets to choose the next category and thus the process is repeated. The overall winner is the player with all or most cards by the end of the game.
Trump card games often have a theme to them and this limited edition Lurid Trumps set from Gods and Monsters is no exception. The 40 card deck features pre-certification VHS artwork from exploitation, soft-core sleaze, cult classics and disturbing horror film titles ranging from Frank Henenlotter's warped Basket Case to porno comedy Pretty Peaches. Each card features the film's artwork, title and four categories: Trash Factor, Sleaze Rating, Rentability and Cover Allure. Each category score goes up to 100 though I believe that not a single card holds the coveted full score.

The game itself is pretty hilarious due to the nature of the theme and playing a two-player game, we had great fun discovering the titles and artwork as we played. With a variety of topless ladies on display throughout the deck, this game is suitable for adult eyes only though the artwork isn't too explicit past a few titties here and the odd bloodied victim (very mild). The gameplay moves quickly with two players and the idea that a forfeit may be issued for the loser(s) makes the game that more appealing. If you like a tipple, you could definitely add alcohol into the game to spice it up though lots of fun can be had by playing the game standalone. The short playing time required by this game makes it ideal to play when you've a spare 10 minutes here and there, for instance during a car trip or to liven up a Saturday night-in with your mates. Just don't play with your grandmother (unless she's into sleazy B-movies too!).
The deck of Mondo VHS Lurid Trumps cards is of top quality with each card of decent thickness and printed in full colour. The deck comes with a card featuring instructions and a transparent plastic case to keep the deck safely stored in for protection and convenience.
This isn't the first time Gods and Monsters have produced a Lurid Trumps deck. As with this Mondo VHS pack, limited to 200 sets, Gods and Monsters have also produced another set of VHS titles as well as three sets of Video Nasties and Section Three titles. This is on top of jigsaw puzzles of Make Them Die Slowly, Danger: Diabolik and Dawn of the Dead as well as a range of wallets, mousemats drinks coasters and phone covers.
Gods and Monsters certainly seem to have their finger on the pulse when it comes to B-movie inspired goods and I can't wait to see what other genre items they have lined up.
The Mondo VHS Lurid Trumps set is available from £15 and you can keep updated with Gods and Monsters' latest product releases on Facebook and Twitter.