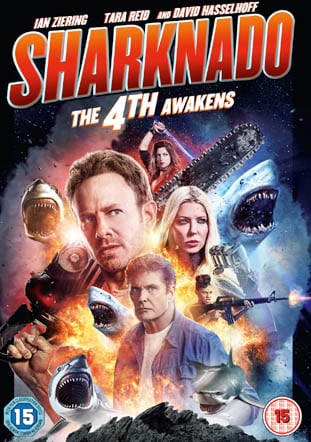 Pop culture phenomenon Sharknado is the franchise that keeps on giving and the fourth instalment doesn't disappoint. It goes bigger, bolder and even more brazen than its predecessors! Whether you're a Sharknado super-fan like us, or your nado cherry is still to be popped, Sharknado: The 4th Awakens is probably the most fun you can have on your sofa while eating popcorn.
After a blissful few years sharknado free, Fin (Ian Ziering) and April (Tara Reid) have to face their bloodiest sharknado attack yet! When the sharknados are whipped up in ways least expected, it seems there's no escaping the razor-toothed monsters! As the beasts strike, Fin is thrown back into action, and compelled to take up the chainsaw once more in a cross-country race to save his family and the world!
With the return of David "The Hoff" Hasselhoff, and tantalising new additions, prepare yourself for the skin-tearing, blood-spurting, biting-bonanza Sharknado: The 4th Awakens on DVD from 5th September 2016!