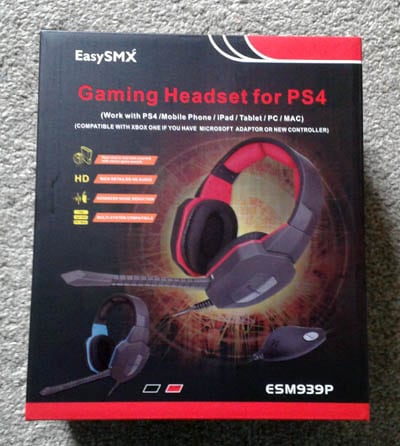 When it comes to gaming, be it on PS4, Xbox One or PC, the latter of which I do quite often, then there's a good chance that you'll play online with other people. With most games offering co-operative play, the need to communicate is paramount. Whilst I've done my fair share chatting via keyboard typing with the likes of Payday: The Heist and Left4Dead, it's much easier when you're in the heat of battle to chat to someone via microphone instead. That's where gaming headsets come in.
With dozens on the market, ranging from a few quid to almost triple figures, it can be difficult to choose a headset that is going to meet your gaming needs. In this review, I'll be taking a look at one of the less expensive models, the EasySMX Gaming Headset.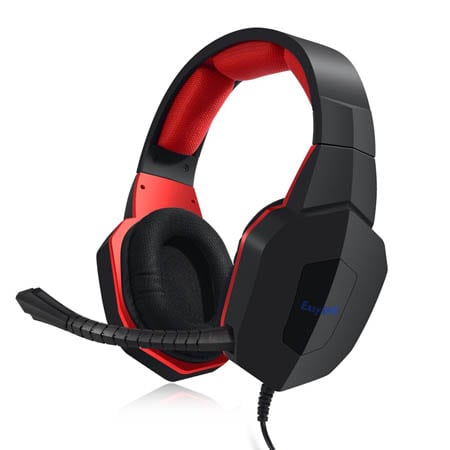 One of the major draws of a gaming headset is that you can enjoy better sound from your game without disturbing others around you (that's if you're not cursing at the top of your lungs at a fellow gamer online). With most gamers enjoying gameplay for a few hours at a time, the headset needs to be comfortable enough to be worn for long durations. The team behind the wired EasySMX Gaming Headset seem to understand this, providing their headphones with soft, thickly cushioned ear pads as well as three sectional padding on the headband itself so the entire headset is supported for comfort. The ear sections of the headphones can slide down too to extend to fit larger head sizes so you can get a better fit should the retracted form be too small.
Being able to talk to other gamers is probably the main reason most people buy the gaming headsets so a clear, quality microphone is also important. The EasySMX mic is detachable and easily slots into the side of the left ear cup so it's at mouth level. It's quite a sturdy, long microphone stalk yet it is bendy/posable allowing the gamer to fine tune the position of the mic when wearing the headset. Too near the mouth and it can pick up unwanted noise so being able to pose it an inch or so away, or further/closer should you prefer, is ideal for getting the best sound.
Lots of people do Let's Play videos nowadays and I've been known to dabble myself via Twitch and YouTube for HCF. Whilst using the EasySMX Gaming Headset, I've found the microphone to be quite sharp and clear. Of course, I had to do some fiddling on the computer side of things to get my settings just how I wanted them but using OBS I've managed to find a decent balance between mic audio and game audio and I'm pretty pleased with the results. Now I can just simply plug in the headset into my PC tower ports using the 3.5mm to headphone & mic splitter provided in the box, alter the microphone device and mic/aux boost in OBS settings and I'm good to go! This headset isn't just for PC gamers either. It's also suitable for PS4 and Xbox One players though Xbox One gamers will need to purchase an adapter which is sold separately.
Some people like to shell out loads of money. I'm not one them. Whilst there may be other gaming headsets available for the £50+ mark, all I'm bothered about is quality and practicality. The great thing about the EasySMX gaming headset is that it does what it says on the tin and does it well. The games sound fab through the headphones with a little volume adjuster attached to the super long cable to allow the user to change the volume in a jiffy with a simple strike of the scroll wheel. The volume adjuster also features an on/off button for controlling music and phone calls if you decide to use the headset with those devices. That's the brilliance of it: the headset's 3.5mm jack makes it ideal for using with other devices too, not just for gaming, with the microphone stalk easy to detach and keep safely at home whilst you strut around with comfy headphones on. Just because they're less expensive than your big branded headsets, don't be fooled into thinking that these aren't stylish. The matt black finish with red inner detail (or blue, depending on which headset you get), looks the business!
Overall, I'm absolutely impressed with the EasySMX Gaming Headset. The build quality is far superior than the price it's being offered at (between £22-25). From my usage, it appears durable and able to withstand hours of usage without causing any discomfort to the wearer which is important when gaming online with friends where every second counts and all attention must be on the screen. The clarity of sound, both through the headphones and the microphone, is top notch and is everything I'm looking for in a gaming headset at an affordable price. In my eyes, EasySMX have proven they can compete with the big boys in terms of quality whilst showing that quality doesn't necessarily mean expensive.
If you're looking for a gaming headset, then I can highly recommend this bad boy which is suitable for all types of media, not just gaming.