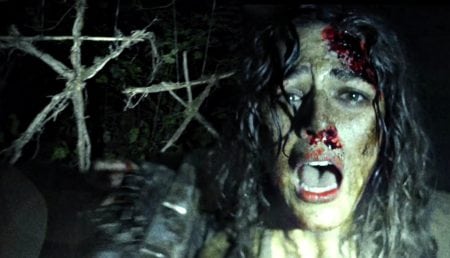 For a film that started the trend of all found footage horror back at the end of the 90's, is the long awaited sequel, the film to end the exhausted genre once and for all?
It seems so as the Blair Witch, a sort of sequel/remake as shocked the horror world by flopping badly at the box-office.  Taking in a mere £9.7m in its opening weekend, its a figure even lower than its much criticised and damn awful first sequel Book OF Shadows.
With our own David S, giving the film a glowing review and with the word of mouth, quite positive, the fact it as done so poorly as sent shockwaves around horror and maybe its the sign that fans are just simply tired of the endless cycle of people running around with a camera when in reality they should just put the damn thing down and get the fuck out of there.
With Blair Witch only being made for $5m, the film as made back its money and while the overall figure will no doubt rise in the next coming months, thanks to Worldwide sales and then eventually the home market, but with the film promising to do so much better, it seems Lionsgate will finally put an end to the bitch in the woods saga.
Just don't expect that prequel anytime soon!