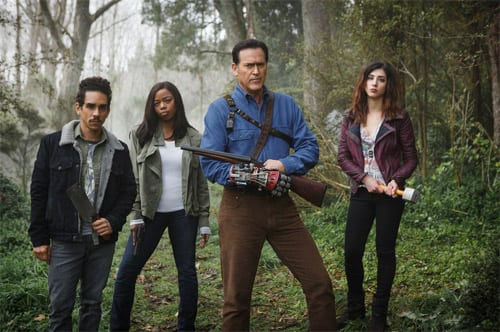 In anticipation of the DVD release of Ash vs. Evil Dead Season One and the premier of season two, Mocata chats with Ray Santiago who plays Pablo on the show. Ash's loyal sidekick and fellow Value Stop employee discusses his time on the series so far including the laughs, the chills and the fountains of blood.
M: Going back to the start what was it like joining up with this cast and crew, back when you came on board? What was it like getting to know them and getting into the series?
RS: Being able to join this franchise and be part of its future is an honour. I was chosen by Sam Raimi and Rob Tapert who looked for specific qualities in each actor and for their characters; it's been an amazing experience. Sam took me in a said 'Pablo is this loyal sidekick, and the eyes and ears of the audience. He's also the heart of this unit that we're trying to create, so maintain that vulnerability that Pablo needs. Just stay true to the character and what he wants, which is to be a hero, save the world, stay alive, and save the girl – you'll be fine!'
Pablo will die trying to do those things, as will I as an actor which I promised Sam Raimi! I gotta hand it to them doing such a good job, and as we all know it's amazing franchise. To be able to work with people like Bruce Campbell and Lucy Lawless, you know these icons, it's an honour. We were taken under Bruce's chainsaw wings and he's been a great leader on the way.
It feels really wonderful to be welcomed by the fans, we weren't sure if they'd be embrace Pablo and Kelly (Dana DeLorenzo) but they sure have. I think that's because we find Ash still being this Lothario who hasn't changed much and he realises that he can't do this alone and can't exist in this world, hero or not, by himself. He comes into contact with this weird dysfunctional group of people that somehow become this ultimate monster fighting squad. It's just an all round fun ride.
M: Let's talk about the tone of the series, obviously it's known for being horror as well as being very humorous. Do you have a personal preference for either of those directions? What's it like to work on something which jumps from one to the other?
RS: I sort of hit a gold mine with this project. I've been in Los Angeles for over a decade jumping from show to show, I've made a living playing gang bangers and drug dealers on television! But to be able to join this as a sidekick, and the first Latino male sidekick in this genre has been great. The fact that we don't just do horror or comedy, basically I lucked out. I get to do amazing stunts, and work in a different country – I have the most amazing job you could ask for.
Very quickly Dana and I had to learn how to switch tone and how to understand what was required for a specific moment. It was a lot of instinct and following your gut. There was a lot of trusting yourself, and also following the leader so to speak. Bruce is a great leader and he's very efficient and taught me a lot in such a short amount of time. Lucy has taught me a lot about patience. She's very patient, incredibly sophisticated. For someone that's had such longevity and has been around for so long she's so humble and kind. It's showed me how you need to be on and off camera. It's nice to be able to go to work everyday because it's definitely not monotonous! Every day is a ride and a journey into the world of cult horror.
M: It's been about 12 months since the last Comic-Con and you appeared this year with the rest of the cast. Back then people might not have known what to expect, but what's the fan reaction been like since the season premier now everyone has had a chance to see what you've done?
RS: The fans love it, they're so loyal. Horror fans are either super loyal and they like you, or they can destroy you, slaughter you. Luckily they've been great and embraced us, I think we did something right. They embraced Pablo and Kelly. I think now because it's available for more of a demographic, more of an audience, we're taking a new generation and introducing them to the franchise.
I wasn't sure if they whether they were going to dig us or not, but somehow I guess the formula of what the show is and what it does translates 30 years later. So they've attached love and joy to seeing a couple more characters being tortured by the Evil Dead. We get tortured and make people laugh, and hope the audience will love it; and they have it's a wonderful thing. I have a lot of gratitude towards the fans. Being at Comic-Con, feeling the energy and the room shake when we get introduced to the panel and they watch the trailer, it inspires me to keep doing my job as well as I can. You get to see these crowds and see what they love. It fuels you and I don't think if you were on a normal drama, and you don't get to interact at conventions then you're missing out on that. My heart is pumping because of the fans.
M: Do you think there's more pressure now with season two, or do you think now people know what to expect you can relax moving forward?
RS: I definitely do not take things for granted and the pressure is always on. I thought I was going to be able to ease into season two knowing what the character is, but what's amazing about the show is that we've managed to shake things up so you'll be like 'oh this is happening' so I can't just coast along the way. Working hard everyday the characters and their relationships are growing and changing. Ultimately in season one you watch Pablo be this loyal, naïve sidekick who looks past people's flaws and believes that they can be heroes. But I think in season two you'll see that the evil forces have changed his perspective on the world, it's a little bit darker. He may or may not be the hero he never knew he could be.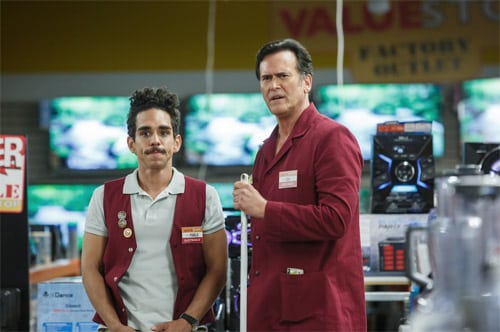 M: Of course this is The Evil Dead, there's a lot of makeup, a lot of blood and effects. Is it like the torture that Sam and Bruce would describe from back in the day using karo syrup and all kinds of prosthetics? What's it like to be on the set?
RS: I think I was sort of tortured (laughs) and when you watch season one Pablo was, I mean there's the scene where he's got demons coming out of his mouth! It's there for the world to see. In season two he's going to be tortured a lot more and using practical effects. We have these cannons that blow the blood at you and they blast it and they can adjust the nozzles to make it come out stronger or weaker.
It's strange coming back, you miss the torture. I'm having withdrawal from being hog-tied and abused. You learn very quickly that it comes with the territory. But it's fun, this kind of thing they we do on the show. I feel like I'm the monkey jumping through these hoops, and Bruce says 'you think you're the monkey what about me? This is how it is here!' I remember one day I had a really crazy stunt in a scene and I did it and I'm walking back to my trailer and he saw me and went 'Hey! How'd it go, Bubbles!' (Michael Jackson's monkey's name) It's fun that we can do what we do and have that exchange between us, and it happens all the time. There are days when I come on set and I look at Bruce and he looks at me, and we have a moment where we stare at each other very quickly and we both start laughing because of the absurd scenario we're in. I thought I was the only one but he's able to read my mind when we're working together, and know that we're both having fun in this crazy torture chamber that is the set of Ash vs. Evil Dead.
M: Bruce has previously said he'll continue doing this until he's old and in a wheelchair – will you be there too to push him along for as long as they'll have you?
RS: Absolutely. He's gonna need someone to push that wheelchair! There will be a bunch of girls that will still be coming out for Ash. He'll still have that magic with the ladies though he's probably not going to be able to function as well – but Pablo will be there!
Ash Vs. Evil Dead is out on DVD on 19th September, from Twentieth Century Fox Home Entertainment

Save