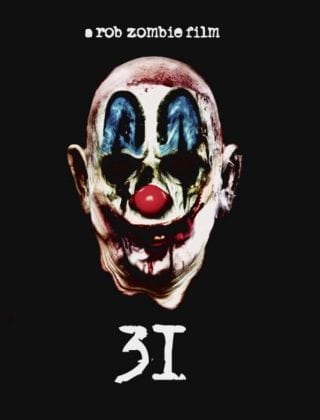 The Hills Have Eyes meets The Running Man as Rob Zombie returns with 31, ans ultra-violent grindhouse-infused slasher, directed with his inimitable, no holds barred style, with an all-star cast headed up by the legendary Malcolm McDowell (Clockwork Orange, Caligula, If, Halloween, Cat People).
Mixing Tobe Hooper-esque Seventies grindhouse scares with the nerve-shredding thrills of The Running Man, Zombie has fashioned a crowd-pleasing horror shocker that received a riotous reception at its UK premiere at the Horror Channel FrightFest 2016 in London.
Sure to be devoured by Zombie's legion of fans, eager to sink their teeth into his latest trademark offering, 31 is a sick, slick blood-drenched rock 'n' roll rollercoaster ride of terror. So sit back, strap yourself in, and break out the popcorn. In hell, everybody loves popcorn.

31 will release in select UK Cinemas and release on VOD in the UK on 23rd September 2016.
A camper van of carnival workers are kidnapped in the middle of nowhere by a trio of debauched decadents. Set loose in a derelict factory compound full of creepy passages containing nasty traps, the abductors, led by the maliciously murderous Father Murder, place bets on who will survive the longest in a 12-hour period of pain and maim against an array of sadistic clowns with such charmingly clear-cut nicknames as Psycho-Head, Sick-Head, Death-Head and Sex-Head. You have been warned!