Shark Lake (2015)
Directed by: Jerry Dugan
Written by: David Anderson, Gabe Burnstein
Starring: Dolph Lundgren, Lily Brooks O'Briant, Sara Malakul Lane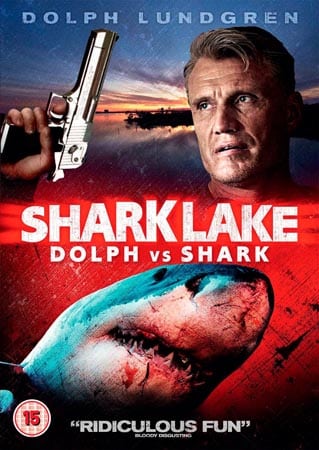 SHARK LAKE (2015)
Directed by Jerry Dugan
The quiet town of Lake Tahoe becomes a feeding ground when a group of sharks begin preying on any unfortunate soul who ventures into the water, but how on earth did the sharks get there in the first place? Officer Hernandez suspects that local criminal Clint Gray is to blame having a track record of importing rare and exotic species for wealthy clients. With the help of scientist Peter, Hernandez must prevent any more shark attacks in the area whilst trying to keep her adoptive daughter safe from her criminal father.
When I first saw the trailer for SHARK LAKE, I thought "Whopee, another corny shark movie!". With genuine excitement and an affinity for most of the crappy, so-bad-it's-good shark B-movies, I eagerly sat down to watch SHARK LAKE starring non other than Dolph Lundgren. What could go wrong, I thought. Very quickly I realised that this particular movie was opting for a more serious tone and instead of hamming it up, we have some annoying subplot regarding Hernandez and 8 year old Carly Gray, the daughter of Clint (Lundgren) who Hernandez captured and imprisoned 5 years previously. Not having any children of her own and with Carly having no relatives to look after her and facing a life in care, Hernandez adopts the little girl. Upon Clint's release, she feels its necessary to cut all ties with Clint and to refuse him to see his own daughter, even under supervision. Now, I can hear you saying "just get to the shark content already" but unfortunately a good part of this movie is taken up by Hernandez's over-protective, suspicious mind so much so that the film should be retitled.
When the film eventually gets to its juicy bits, SHARK LAKE proves why people prefer films like Jaws or, on the opposite side of the coin, Ghost Shark, Mega Shark and Shark Attack 3. You either have to go the uber serious, frightening route of Spielberg's Jaws to ramp up the fear factor or go downright hilarious with over-the-top scenarios, a la Sharknado, to get the viewers interested. This middle-of-the-ground effort, with its stock footage, weak CGI and ropey plotline and script, provides no entertainment whatsoever. Never is it frightening enough to make the viewer afraid to step into water again nor is it daft enough to sit back, laugh at and thoroughly enjoy. Just when you thought it might enter silly territory with its hammy, English, extreme fishing BBC presenter character, it re-adjusts itself to become the action-less bore where runaway children are of more concern than townspeople having limbs chewed off. Even casting action star Dolph Lundgren was a waste of time, giving the actor very little to do or work with. Those sold on the premise of Dolph vs Shark will be disappointed to learn that such a battle is only a few minutes long and outside of that, Dolph doesn't even see a shark.
Creature feature, this is not. It might star a few sharks and people who become their victims but SHARK LAKE is hardly the action-packed, shark attack horror fans will be yearning for.
Rating:
Save